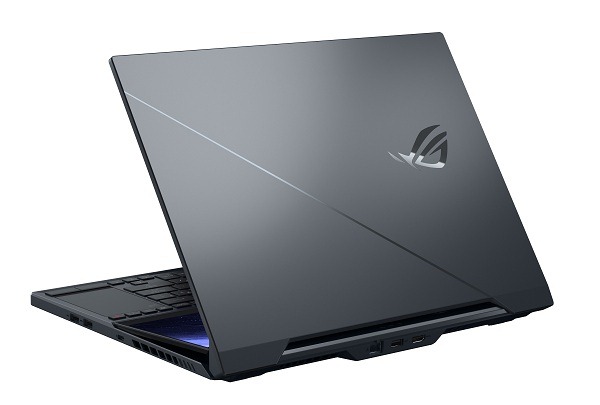 ASUS ROG Zephyrus Duo 15 GX550 has been launched today and it packs amazing specifications. ASUS ROG Zephyrus Duo 15 GX550 is priced at 4500 euros / dollars and you are getting a lot at that price.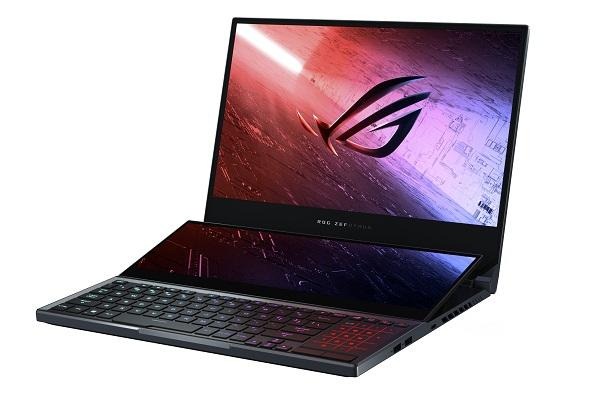 ASUS ROG Zephyrus Duo 15 GX550 specifications include two displays – 14″ 300Hz and ROG screenpad plus screens, Intel Core H series cometlake processor, Nvidia GeForce RTX super and Active graphics aerodynamic system. There is nothing like ASUS ROG Zephyrus Duo 15 GX550 in the market right now.
The 14.09″ screen is home to 4K 3840×1100 pixel resolution that has IPS tech and 72 percent color NTSC coverage. If you want to save money, you can go for full HD IPS panel as well. This also has 100 percent RGB coverage.
There is another display that is placed above the keyboard, precisely at 13 degree angle for maximum comfort for eye.
This also exposes the massive 28.5 mm air intake that helps keeping this huge ASUS ROG Zephyrus Duo 15 GX550 laptop cool at all times.
Its cooling system is home to two N-blade fans and 4 heatpipes as well.
Choice of processors include Intel Core i7 10875H octa-core CPUs at 2.3GHz (Turbo at 5.1GHz) and Intel Core i9-10980HK at 2.4GHz (up to 5.3GHz in Turbo Mode). For GPUs, you can opt for Nvidia GeForce RTX 2070 Super or RTX 2080 Super GPU with 8GB of GDDR6 memory (1330MHz in Turbo mode).
For memory, you can equip this gaming laptop with upto 32GB DDR4 RAM out of which 16GB comes soldered and there is additional RAM slot for expansion. For storage, there are two NVMe PCIe storage slots for four SSD drives. There is also support for RAID0.
ASUS ROG Zephyrus Duo 15 GX550's keyboard is backlit and features 1.4mm stroke for excellent typing and gaming experience. However, there is no palm rest and no numberpad. However, you can use this empty area as touchpad.