Bisq is a decentralized cryptocurrency exchange which is currently investing immense security vulnerability. Bisq developers have already disabled trading.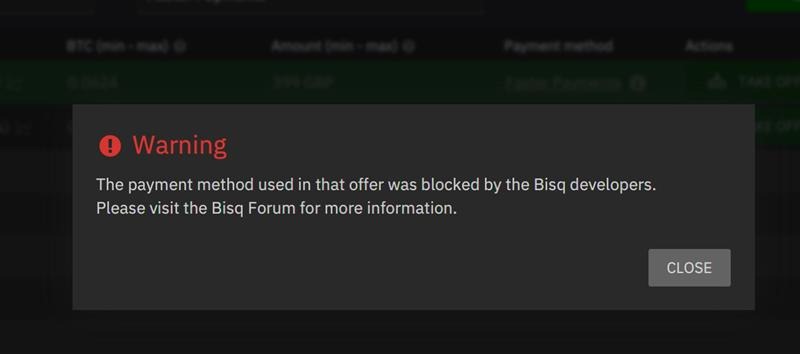 Bisq developers have already asked the community to not send any funds to their cryptocurrency exchange. However, since Bisq is a proper decentralized exchange, it is possible to easily override alert key functionality that is activated by Bisq developers.
If your trades involve following multisig transactions, your funds will be at risk.
26cfc5b3d1f93aee1e97ad13a3c1e8d6ee75a8f510ece57425dbf3b0c18d2b8f
c320a2741e99e8e5e8cd82201e812ed75ce6fef418d2a2a59f96510e38512660
65b0becd8068f41f12026b442556d2ae3430d0bfa409e97d2c31cba5ed892b41
c89ab82a01931378ecd5c78b4b9fce726c97233136ae0d4a266067259f214263
6bd8293c485e201448ee87b5fabff8b7148453877bdd02382bbbda12454b4c6c
c0eb83ce6b05aa0c8c7682c87551a1c35444bf1f75052b22c5fbcaf0f8594875
5587817bb12ce082dcf8aeec66692bde410666b42ff124d0543acb887773fc56
a49e8910e3b22e37e3b38c88531ec0d5d2690ae611d68852816c5f3c34f2d9c5
Bisq users are requested to wait for v1.3 and until this very version, existing trades won't be executed. Funds of users are safe.
You will get following error if you try to execute your trades on v.1.2.9.
Payment method used in that offer was blocked by the bisq developers.
Trades will resume after the hotfix is released, hopefully within a few hours. Again, If you have any active trades right now, please do not send ANY funds.
An unfortunate side-effect is that existing trades are also prevented from being completed until the hotfix is released. Bisq is a proper distributed peer-to-peer network. So you can override the latest alert key functionality that blocks trading. But Bisq highly discourage you from doing this for your own security.