Targus B580 is cheapest bluetooth mouse you can buy in 2020. This costs about $17 on Amazon which makes Targus B580 an amazing deal. Compatible with Windows, Android, iOS, Mac and even Chromebooks, it offers 1600 DPI optical sensor that makes it excellent for professional work or something that requires precision.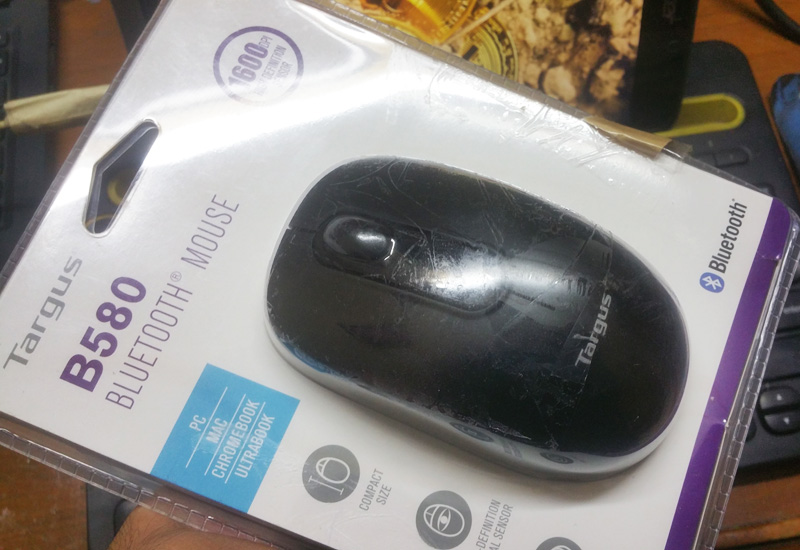 Targus B580 bluetooth mouse review
Design wise, Targus B580 is simple. There are three buttons for easy navigation. One AA battery is included in box.
Pairing Targus B580 is a simple process. Just press the button located in middle on the bottom of mouse and it will go into pairing mode. Fire up bluetooth radio on your computer or phone and you will see Targus B580 as a discoverable device.
Targus B580 goes into sleep when not used for 8 minutes to save power. There is power on/off switch as well.
Its entire body is made of plastic and feels cheap in hands. Sacrifices must be made to bring costs down and that is evident the moment you hold Targus B580 in your hands. However, I can live with it as it has made my near-useless Acer Iconia W4-820 windows tablet useful again. I've facing ghost touch problems on my Acer windows tablet.
The only way I can use it is by using bluetooth mouse and bluetooth keyboard since there is single micro USB port on it which I use for charging it. So now, I am using my Acer Iconia W4-820 windows tablet with Logitech K480 bluetooth keyboard and Targus B580 bluetooth mouse. It works well. Make sure you do not turn off bluetooth on your tablet which has touchscreen disabled. Also, do not turn on flight mode as it will turn off bluetooth and Wi-Fi. In any case, you would not want to turn off bluetooth if touchscreen is disabled.
Targus B580 is cheapest bluetooth mouse bar none. There is nothing in market that even comes close to B580 in terms of dollar-for-value ratio. It is great for those who have a computer with few ports or for smartphones where you cannot use wireless optical mouse. It works very reliably and I can honestly recommend it over more expensive bluetooth mice.