Asus has already churned out several variations for their 12-inch netbooks. We have seen 1201n, 1201ha, 1201t, 1201nl, 1201x, 1201k and so on. Few weeks back, we posted the review of the Asus Eee 1201T and we were pretty impressed with the performance. We also have the Asus eee 1201N which is very powerful for a netbook, but does not yield satisfactory battery runtimes.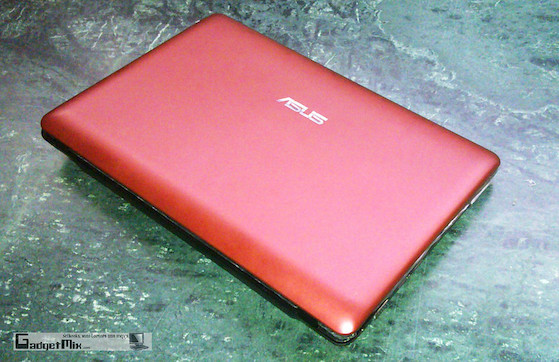 For those yearning for better runtime, Asus rolled-out another 12-incher called 1201NL. This one has Atom N270 processor and Nvidia ION LE combo plus it runs Windows XP. So, does it gets a thumbs-up from our side? Read the review to find out.
Specifications:
· Atom N270 processor (1.6GHz)
· 1GB RAM (768MB RAM available)
· 12.1-inch WXGA display – 1366×768 resolution
· Wi-Fi b/g/n, Bluetooth
· 320GB hard disk drive (no Eee online storage)
· HDMI, VGA ports
· 3x USB 2.0 ports, 1x LAN port
Build and Design
Whole casing is made from glossy plastic and this has the tendency to pick up smudges very easily. Our test unit was completely black in color and the only thing which is not black are the bar below the touchpad and two keys above the keyboard – power and touchpad on/off button. This Eee PC falls under the Seashell range and it too has rounded forms on the outer sides. The hinge appears to be very strong and it should not give you any problems for few years for sure.
Ports
On the left, there is a USB port, HDMI port, power and VGA port. On the right, you will find 2x USB ports, Kensington lock, LAN port, headphone and microphone jack.

HDMI
Unlike 1201T, which although was full HD capable, did not come equipped with an HDMI port. Seriously, what is the point of running HDMI video on a 1366×768 pixel display? Fortunately, the Asus 1201NL does come with an HDMI port.
Display
It is very glossy and we wish that it was matte. Anyway, the display size is 12.1-inches (30.7 cm) and sports a resolution of 1366×768 pixels. This is the same resolution which one finds in the bigger 15-inch notebooks these days. It works fine indoors, thanks to decent contrast ratio of 222:1. But, its glossy display is a huge hindrance when working outdoors.
Performance
As mentioned in the specifications, the Asus Eee 1201NL comes with an Atom N270 processor. It has been nearly 3 years since it has been launched and we were actually surprised to see it in a modern netbook. We see this as a wise decision to cut the overall costs though as the Atom N450 retails at a higher price to the manufactures. Also, the difference between the two is negligible. But, the highlight of this 12-incher is its GPU, Nvidia GeForce 9400M G, popularly known as the ION LE.
Comparison with the AMD Neo-powered Asus Eee 1201T
Luckily, we also posses the Asus Eee 1201T which is powered by the AMD NEO MV-40 1.6GHz processor and features ATi 3200 HD GPU and we could not resist putting both of these machines to test.
First test – Capcom's Street Fighter IV Benchmark
Street Fighter IV is a fairly complex game and we were doubtful if we will be able to get decent framerates from either of the netbooks. To our surprise, the Asus Eee 1201NL ran like a champ. We were able to get more than 60FPS during the fights. On the other hand, framerates the Asus Eee 1201T were disappointing, ranging between 29-31FPS throughout the whole game.
Now, although the CPU has two threads, the performance of the CPU alone is nowhere as good as the AMD NEO MV-40. In normal operations, where GPU is NOT utilized, AMD NEO performed much better. For example – while running apps like Photoshop CS3, Video encoding, AMD felt faster. Even multitasking feels smoother in AMD.
Bottom Line – If you are into gaming, get the Asus Eee 1201NL. Battery life is about the same in both Asus Eee 1201T and Asus Eee 1201NL
It comes with a ArcSoft Total Media Theater 3 to let you play those 1080p videos
Keyboard and Touchpad
The keyboard on the Asus Eee 1201NL is fantastic, almost like the one that you find on full-size notebooks. It took us no more than 10 seconds to get fully accustom to the keyboard layout. However, we do think that the right shift key could have been bigger.
The touchpad supports multi-touch gestures like two fingers scrolling, pinching and so on. There a single chrome bar below the touchpad that handles left and right click functions. We prefer separate buttons, but it gets the job done.
Speakers
It has two speakers, both positioned under the front edge. The volume is good enough for sharing a video with your friend sitting beside you. We won't recommend watching a movie with them as they lack bass.
Battery Life
Running street fighter game the whole time, we were able to get around 2 hours of runtime with 50% brightness. But, with moderate use, which involved an hour of browsing via Wi-Fi on Firefox, 10 minutes of photoshopping, an hour of typing on the word, there was still 60% juice remaining. So, we should be able to get around 5 hours of runtime with it. Now, these figures were when we were in high-performance mode. We are sure that you could stretch it to almost 6 hours if you use the netbook in power-saving mode.
Pros and Cons
(+) Big 12-inch 1366×768 display
(+) Can play 1080p videos
(+) ION LE allows you to play some quality games like NFS Most Wanted and Street Fighter IV
(+) HDMI port = Awesomeness
(+) Decent chiclet-style keyboard
(+) Still pretty much portable at 1.4kg
(+) Cheap (<$400)
(-) No Eee Storage like rest of the Eee models, but there are bucketful of alternatives
(-) Runs Windows XP. We think no netbook should run a 9 year old OS in 2010.
(-) Five hours of runtime. Most netbooks run for at least 8 hours.
(-) Glossy design means open invitation to smudges