ASUS VivoStick TS10 is most powerful TV Stick (TS10-B174D)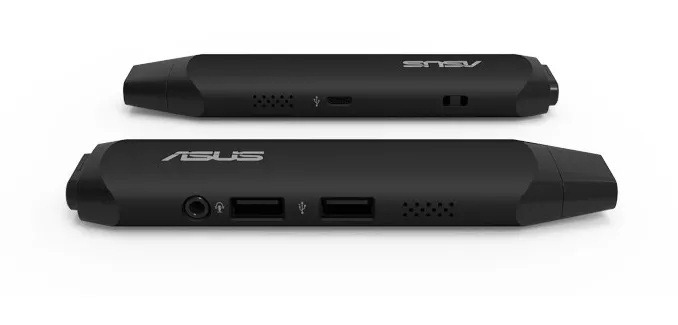 Launched initially in 2017, ASUS has announced that from now on its mini-pendulum-shaped PCs will be more powerful than ever. This is the ASUS VivoStick TS10, bearing updated model TS10-B174D, which features more RAM, more storage capacity and will come standard with Windows 10 Pro.
When Intel initially launched its Compute Stick – a complete PC contained in the size of a pendrive – it caused a lot of rage among the users, since from that moment on, a whole PC could be carried in the pocket and connected almost anywhere, since only requires an HDMI port and a USB to work.
Many manufacturers as the case of ASUS followed in their footsteps and launched their own versions of this Compute Stick, although since then they left these products practically forgotten, without updates or new versions… until now.
Initially, the VivoStick TS10 specifications had a Cherry Trail processor with 4 Airmont cores, specifically an Intel Atom x5-Z8350, which was accompanied by 2 GB of 1600 MHz LPDDR3 RAM and 32 GB of eMMC storage.
The updated model (TS10-B174D) comes with the same design and same processor, but in this case it is accompanied by 4 GB of LPDDR3 memory and 64 GB of eMMC storage, so basically ASUS has doubled its RAM and its internal storage (which, remember, it has a speed of 150 MB / s).
What's more, the initial VivoStick factory offered Windows 10 Home, but now ASUS will sell it with Windows 10 Pro so that more advanced users can perform more advanced functions that are not allowed to be performed in the Home version of the Microsoft operating system. By the way, the device has two USB Type-A ports (a 2.0 and a 3.0), and micro USB connector for power and a combo mini jack, in addition to the HDMI 1.4 which is its main connector.
The original VivoStick TS10 was designed for consumers and SOHO applications, and in fact many stores continue to sell it as a multimedia tool for television since if something good has Windows 10 is its flexibility when it comes to running all kinds of applications.
However, this updated version that is more powerful and comes with Windows 10 Pro seems focused on a more specific niche, since this version of Windows allows among other things to add the computer to a domain, so you could be looking for the reception of the sector business. In any case, being a more powerful device will continue to be suitable also for home users who simply want to have a small multimedia PC connected to the TV.
For now, ASUS has announced this renewed VivoStick TS10 in Japan, but they haven't said anything about the sale price or the availability date, not even in Japan. That said, the truth is that it is a bit strange to see a manufacturer like ASUS renew a device launched three years ago, so it will be interesting to know what plans they have in mind for this movement.
Posted by Mohit Sharma on
February 23, 2020
in
Technology
Related topics