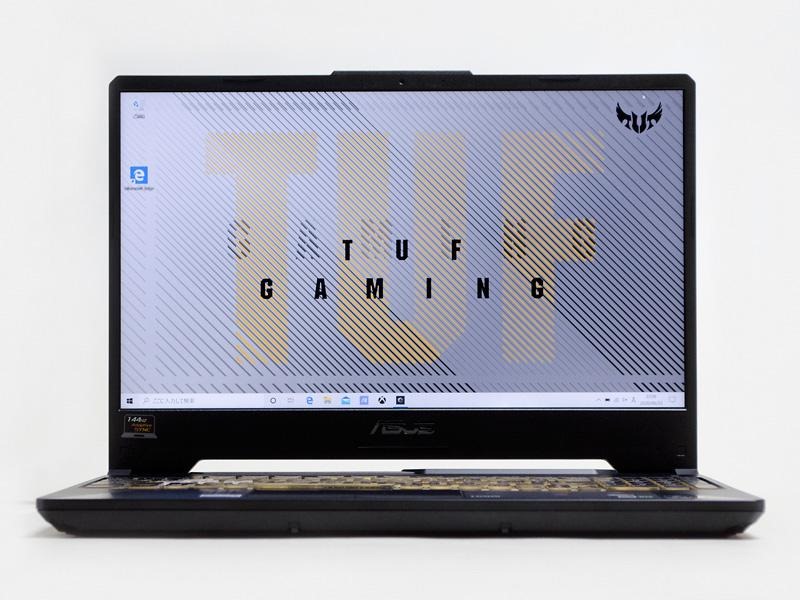 Asus TUF GAMING A15 is an excellent laptop on paper but is let down by poor thermal management. The processor is AMD Ryzen 7 4800H. It has 8 cores and 16 threads, and clocks from 2.9 GHz up to 4.2 GHz. The cache is 8MB and the TDP is 45W. Memory is DDR4 3200MHz 16GB (8GB x 2), 512GB SSD storage and runs Windows 10 Home OS.
Asus TUF A15 throttles too much
Entire cooling system of Asus TUF GAMING A15 is made of just four copper heat pipes, two of which are taken up by AMD Ryzen processor and graphics. 3rd one is taken up exclusively by the GPU. There is another smaller copper pipe for VRM and RAM that also run hot almost all the time. This seems to be done deliberately and throttles entire unit way too much.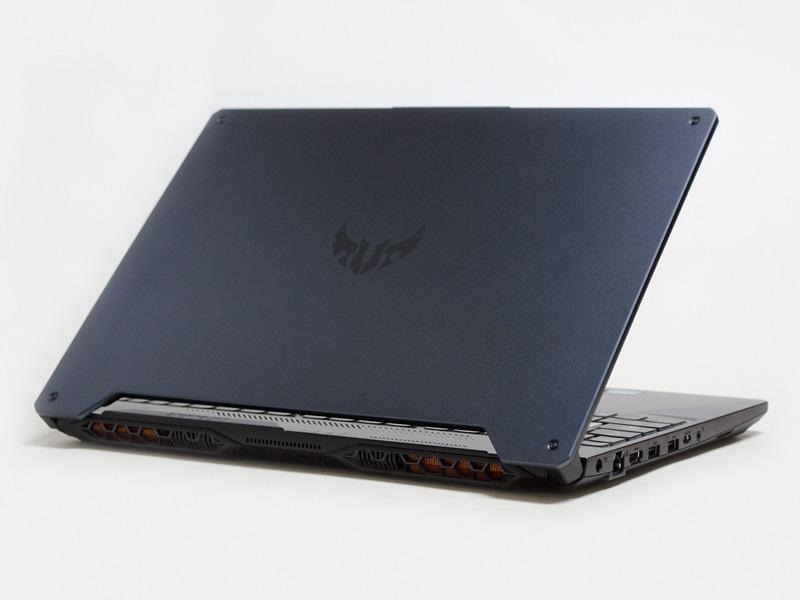 Vibration and noise are at levels that don't bother you even in Turbo mode at 48 dB.
Asus TUF GAMING A15 specifications (of my unit)
Processor AMD Ryzen 7 4800H (8 cores 16 threads/2.9GHz to 4.2GHz/cache 8MB/TDP 45W)
Memory 16GB (DDR4 3,200MHz)
storage SSD 512GB
OS Windows 10 HOME (64bit)
display 15.6-inch full HD (1,920 x 1,080 pixes), 144Hz, non-glossy/HDMI (2.0b), Type-C (DisplayPort 1.4)
Graphics GeForce RTX 2060 (6GB/GDDR6)
Network Gigabit Ethernet, IEEE802.11ac compatible, Bluetooth 5.0
Interface USB 3.1 Gen2/Type-C x 1, USB 3.0 x 2, USB 2.0 x 1, 920,000 pixel webcam, audio input/output
Battery capacity/drive time 48Wh/about 6.2-6.6 hours
Size/weight Approximately 359.8 x 256 x 22.8-24.9 mm (width x depth x height) / approximately 2.3 kg
Asus TUF A15 benchmark results
PCMark 10 v2.1.2177
PCMark 10 Score 5,442
Essentials 9,141
App Start-up Score 11,123
Video Conferencing Score 8,174
Web Browsing Score 8,403
Productivity 7,168
Spreadsheets Score 8,535
Writing Score 6,021
Digital Content Creation 6,675
Photo Editing Score 11,106
Rendering and Visualization Score 6,153
Video Editing Score 4,354
PCMark 8 v2.8.704
Home Accelarated 3.0 4,461
Creative Accelarated 3.0 4,728
Work Accelarated 2.0 5,713
Storage 4,926
3DMark v2.12.6949
Time Spy 6,151
Fire Strike Ultra 3,738
Fire Strike Extreme 7,289
Fire Strike 14,737
Sky Diver 32,257/33,731/34,139
Cloud Gate 38,355
Ice Storm Extreme 92,431
Ice Storm 88,933
CINEBENCH R20
CPU 4,359 pts (4th)
CPU (Single Core) 456 pts (2nd place)
CrystalDiskMark 6.0.0
Q32T1 sequential read 1988.846 MB/s
Q32T1 sequential light 980.769 MB/s
4K Q8T8 random read 308.774 MB/s
4K Q8T8 random light 981.294 MB/s
4K Q32T1 random read 302.212 MB/s
4K Q32T1 random light 373.873 MB/s
4K Q1T1 random read 43.489 MB/s
4K Q1T1 random light 124.236 MB/s
Display – The 15.6-inch display of Asus TUF GAMING A15 has good contrast and viewing angle. Since it is non-glossy, it is easy on the eyes. Probably the color gamut is close to sRGB.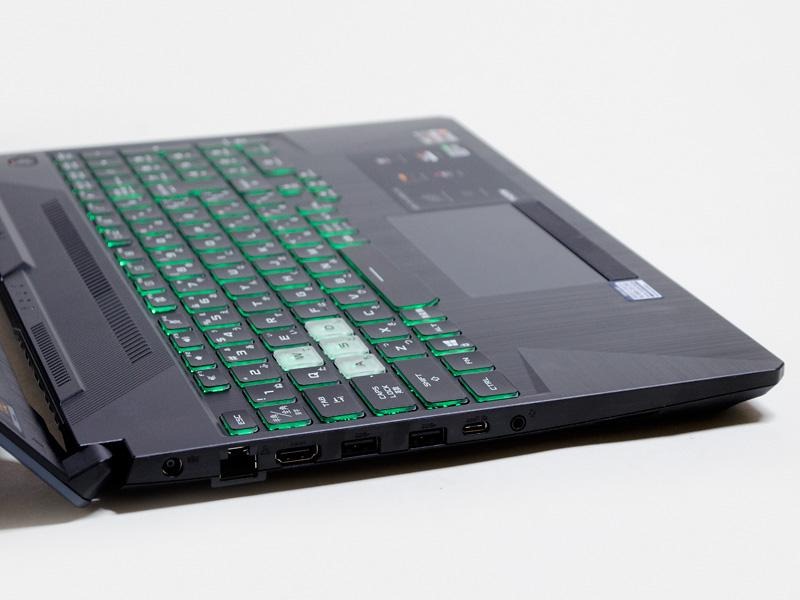 As for the brightness, when taking a picture of the front, if you set the background white to around RGB: 240/240/240, the white spots on the screen will occur unless the brightness is lowered a little.
Build – The Asus TUF GAMING A15 case has a matt metallic finish and a hairline finish. The weight is about 2.3 kg according to the specifications. It's a little heavy for a laptop of this kind, but it's compliant with MIL-STD 810H.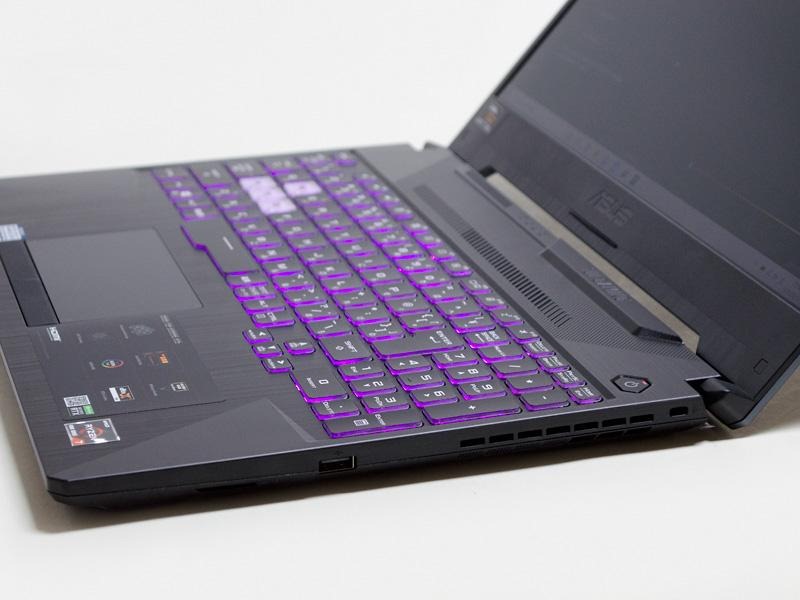 Keyboard – The Asus TUF GAMING A15's keyboard features RGB backlight and dedicated numeric keypad. The W/A/S/D keys are transparent and it seems to be a gaming notebook PC. The key pitch of the main key is actually about 19 mm. Since the pitch on the numeric keypad side is narrowed, the pitch of the main keys is constant and there is no disarray.
The stroke is a little deeper, but it is solid and comfortable. The touchpad is a 2-button type. It has a sufficient area, including the palm rest, and is easy to handle.
Asus TUF GAMING A15 Review – Too much throttle makes Asus A15 bad gaming laptop.