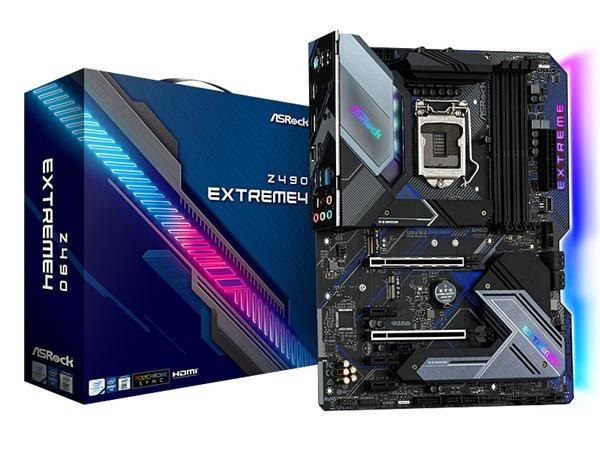 ASRock Z490 Extreme4 motherboard for Intel 10th generation processors has been released.
In the Intel 400 series, the CPU socket is changed to LGA1200, and the upper Z490 is designed with PCI Express 4.0 in mind, and is equipped with an external base clock generator. The PCI Express x16 slot also added an anchor point, adopted a stronger latch, and adopted "Steel Slot [Gen4 Version]" that ensured signal stability.
Also, by adopting a 2oz copper foil layer and a DrMOS in ASRock Z490 Extreme4 motherboards, the power conversion efficiency can be increased up to 95% while lowering the temperature. In the high-end model, when adopting a water-cooled cooler as the CPU cooler, we considered that the VRM near the CPU socket is not cooled by wind, and provided a fan on the VRM to ensure stability.
In addition to this, "Boost Frequency Boost" technology that enables overclocking even with non-K series CPU, Realtek 2.5Gigabit LAN controller, ESS 9218 DAC, WIMA audio capacitor, Nahimic Audio technology are equipped with higher models.
The lineup and features are as follows.
Intel Z490
・ High-end-
Z490 Taichi
-Z490 PG Velocita
・ Mainstream-
Z490 Steel Legend
-Z490 Extreme4
・ Entry-
Z490 Pro4
-Z490 Phantom Gaming 4 / 2.5G
-Z490M Pro4
・ Mini-ITX
-Z490 Phantom Gaming-ITX / TB3
-Z490M-ITX / ac
Intel H470 / B460 / H410
・ ATX
-H470 Steel Legend
-H470 Phantom Gaming 4
-B460 Steel Legend
-B460 Phantom Gaming 4
・
MicroATX -H470M Pro
-B460M Steel Legend
-B460M
Pro4 -H410M-HDV / M.2
・ Mini-ITX
-H470M-ITX / ac
-H410M-ITX / ac