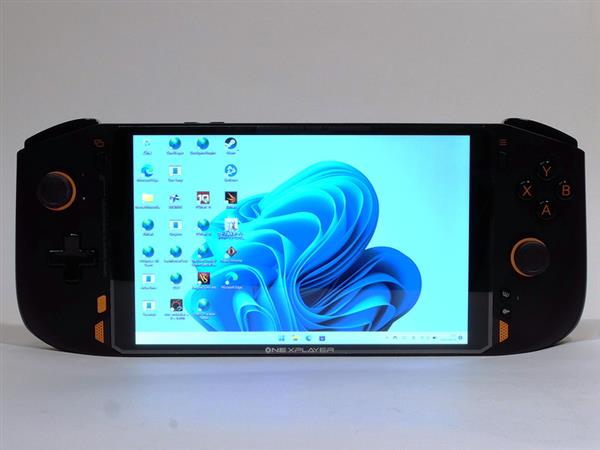 One of the trends in gaming handheld computers in recent years is the installation of AMD SoCs instead of their Intel counterparts. Its presence is quite high, for instance, an AMD processor was used in AYANEO and STEAM Deck that has not been released in many countries including Japan. So, it is not surprising to see AMD Ryzen being used in OneXPlayer.
The ONEXPLAYER mini AMD Ryzen version is a slate-type gaming UMPC equipped with a 7-inch display. It will be a model equipped with AMD Ryzen 7 5800U in the housing that had a built-in Intel CPU so far.
The biggest feature is that it is equipped with AMD Ryzen 7 5800U which adopts AMD's Zen 3 architecture. The 8.4-inch ONEXPLAYER AMD Ryzen version equipped with AMD APU is equipped with AMD Ryzen 7 5700U or AMD Ryzen 7 4800U, both of which adopted the Zen 2 architecture one generation ago. It is interesting that this smaller model has a higher performance APU than these models. The built-in GPU is the same as before in that it is a Radeon Vega with 8 cores and 2 GHz operation.
The housing size is the same as the Intel version of mini, 262 x 107 x 23 to 35 mm (width x depth x height). The weight is 619g, which is about 20g more. Built-in memory is 16GB. As for the display, in addition to the model equipped with the same 7-inch / 1,920 x 1,200 pixel touch panel display as before, a model equipped with a 7-inch / 1,280 x 800 pixel HD liquid crystal is also available as a new option. There are 3 models of storage, 512GB, 1TB, and 2TB, and at the time of purchase, you can choose from a total of 6 types depending on the difference in storage and display resolution.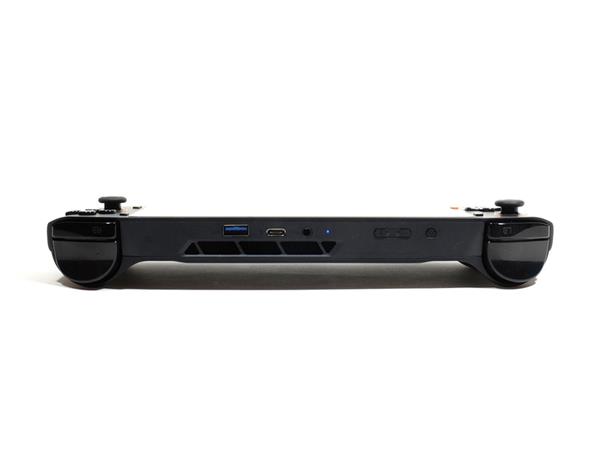 Most HD resolution displays are used by other gaming handheld computers. The reason is that lower resolutions provide better performance and you can play the game smoothly without having to adjust from the default settings.
I would like to appreciate the fact that the company, which has prepared only high-resolution display models so far, has expanded its lineup and increased the options so that even the above-mentioned users can easily play the game.
The main unit uses a touch panel and a built-in software keyboard, and does not have a physical keyboard. Equipped with XInput compliant controllers on both ends of the main unit. On the left side is an analog stick and cross key, a HOME button that can be displayed on the desktop, and on the right side is an analog stick and A / B / X / Y button, a keyboard call button and a night mode button that slows down the fan rotation speed.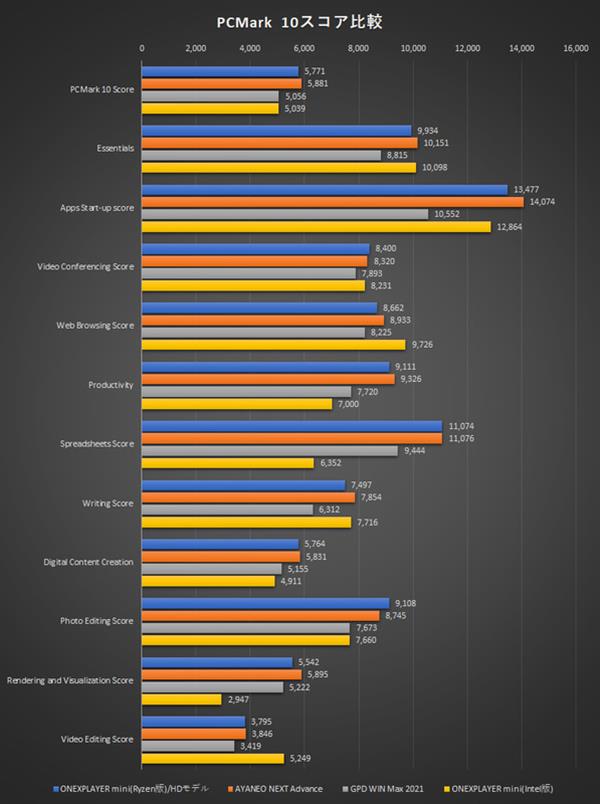 The top of the main unit is equipped with a shoulder button equivalent to L1 / R1 and a linear trigger button equivalent to L2 / R2. It has a built-in 3-axis gyro sensor and can be used with compatible drivers.
The terminals are equipped with USB 3.0 on the top, USB 3.2 Type-C for power supply, 3.5 mm earphone jack, and one USB 3.2 Type-C for power supply on the bottom. The fact that it has a USB Type-C terminal that can supply power to both the top and bottom, which is also an attraction common to the series, is alive and well.
This time, for comparison, AYANEO NEXT equipped with AMD Ryzen 7 5800U, GPD WIN Max 2021 equipped with AMD Ryzen 7 4800U of ZEN2 architecture, and ONEXPLAYER mini equipped with Intel Core i7-1195G7 in the same housing. I compared it with the data of 3 products with the maximum Power Limit setting.
ONEXPLAYER mini AMD Ryzen version is one product in the transition period of such gaming UMPC, but it is finished as a very attractive product as one model equipped with high performance APU adopting Zen 3 architecture. It has performance that can be said to be comparable to the latest rival AYANEO NEXT that adopts almost the same APU, and it is one that I would like to recommend to those who are looking for a compact yet high-performance gaming UMPC.