Zotac has released M series edge MI646 mini PC with a thickness of 28.5 mm. The price is $850 and available directly from Zotac.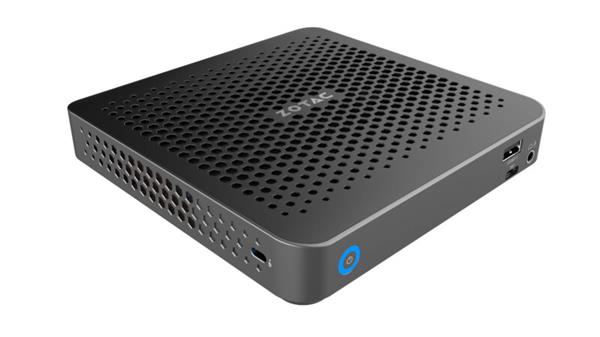 The Zotac M series edge MI646 is a mini PC featuring a thin housing of 149.5 x 149.5 x 28.5 mm (width x depth x height). The top plate is designed to be easily removable, and memory and SSD like Micron can be added.
The main Zotac M series edge MI646 specifications include Intel Core i5-1135G7, 16GB memory, 256GB M.2 NVMe SSD and Windows 10 Pro OS.
The interface of Zotac M series edge MI646 features Thunderbolt 4, USB 3.1 x 3, 2.5Gigabit Ethernet, Gigabit Ethernet, Wi-Fi 5, Bluetooth 5, microSD card slot, audio input / output, etc.
The body weight of this Zotac mini PC is 520 grams which is understandable since its housing is made of plastic.
Detailed specifications
Product name ZBOX M series edge MI646
Model numberZBOX-MI646-J-W2C
OSWindows 10 Pro 64bit
CPUIntel Core i5-1135G7 (4 cores / 8 threads, standard 2.4GHz / maximum 4.2GHz)
GPUIntel Iris Xe Graphics (Integrated)
memory16GB DDR4 SODIMM (8GB x 2, free x 0) * Maximum 64GB
storage256GB M.2 NVMe SSD / 2280 x 1, free (M.2 NVMe SSD / 2242 x 1)
Video terminalHDMI 2.0 x 1 (up to 3840 x 2160 @ 60Hz )
DisplayPort 1.4 x 1 (up to 4096 x 2160 @ 60Hz )
network2.5Gbps LAN x 1, 1Gbps LAN x 1,
Wi-Fi 5
Bluetooth 5
Input / output terminal
Front
・ USB 3.1 Type-A × 1
・ Thunderbolt 4 × 1
・ Microphone / headphone combo port × 1,
Rear
・ Wi-Fi antenna terminal × 1
・ 10/100/1000 Ethernet × 2
・ DisplayPort 1,4 × 1
・ HDMI 2.0 × 1
・ USB 3.1 Type-A × 2
Right side
・ Micro SD card reader (SD / SDHC / SDXC)
Body dimensions (width x depth x height)149.5 mm x 149.5 mm x 28.5 mm
Body weight520g
power supply19V / 65W AC adapter x 1
accessories
・ 19V / 65W AC adapter x 1, power cable
・ Wi-Fi antenna x 1
・ Dedicated VESA mount bracket x 1 (mounting screw x 4)
・ USB for OS recovery
・ Quick installation guide
・ Warranty card