Have you been looking for an in-depth review of this highly anticipated netbook/notebook from SONY? How is the self-proclaimed size-zero, ultra slim notebook in terms of performance? Is its over-a-grand price worth it? Read the full review below.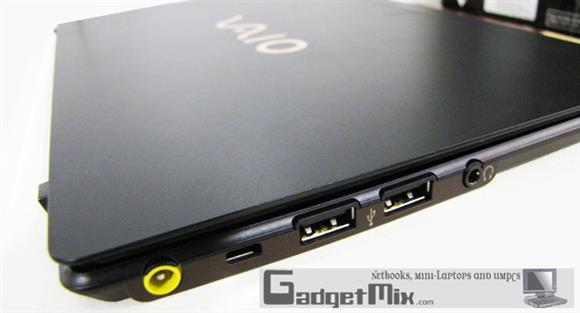 Specifications of our unit:
Intel Atom Z540 processor @ 1.86GHz
64GB SSD
2GB RAM
11.1-inch LED screen
1366×768 resolution
WiFi b/g/n
Windows 7 Home Premium
Design
This thing is slim! Slimmest, may be, but certainly the lightest 10-inch+ netbook/notebook. So, what makes it so light? Well, one of the main contributing factors which SONY kept hidden from the public is its 7gm SSD. Another factor for its lightness is its carbon fiber lid.
The carbon fiber lid, although does appears a bit flimsy, but it is sturdy. It flexes? Yes, it does. So, do not bend the screen a lot. After all, this notebook costs over a grand!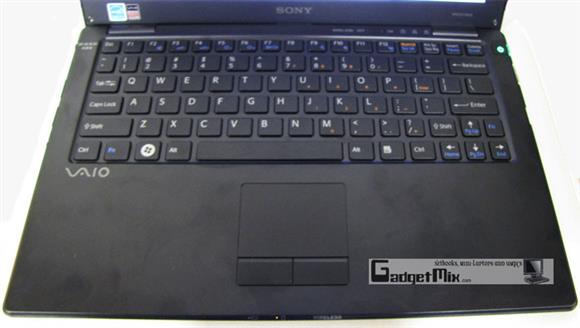 The VAIO X is the direct attack over the Apple's Macbook Air. It is thinner than the Macbook Air even at its thickest point which is 14mm.
Display
Beautiful display. Colors pop-out just like any other high end VAIO. The 11.1-inch display is perfect for displaying your favorite pictures or for watching movies. Unlike most VAIOs, it does not pack insanely high resolution. Resolution is 1366×768 which is the same as found in earlier 11-inch VAIOs like VAIO TT/VAIO TZ.
You can work for hours and hours on this notebook without developing an eye-strain like in the case of VAIO P which packs 1600×768 into its small 8-inch display.
There is a 0.3MP camera on the top of the display. It works fine for video calls. Nothing much to talk home about.
Keyboard
The keys of the VAIO X are even smaller than the ones found on the VAIO P. Sony VAIO P has an excellent keyboard, with keys just about the right size which make it an ideal (expensive) notebook for touch-typing. The key press is satisfying.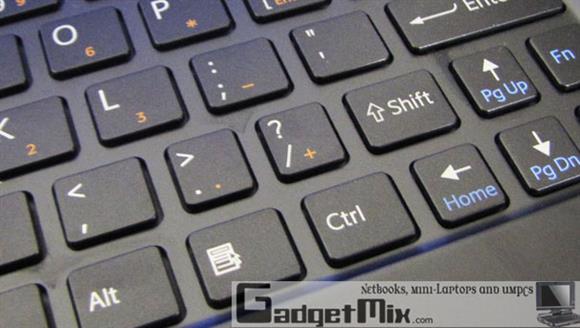 The right shift key is bugging, very bugging. I have the same problem in VAIO P and SONY did not made any advancements in this region.
How useful is that little right shift key is a big question? There is a wireless on/off switch just above the keyboard.
Touchpad
The Touchpad is small even though there is a lot of empty space around it. That said, we faced no problems in using it. The buttons are located below it and have pleasant tactile feedback. They do not produce a lot of sound which is nice thing to know.
Even the matte finish does takes up few smudges here and there
Ports
There are just 2 USB 2.0 ports and VGA port (on its right side).
On the left side, you will find power port, Kensington Lock, USB ports and headphone jack. No microphone jack present anywhere.
On the right side, you will find LAN port and VGA port. We feel that SONY could have fit in another USB port on the right side. Most of the netbooks come with 3 USB 2.0 ports.
Notice that the VAIO X's LAN port, at its first glance, seems as if it won't be able to accumulate the LAN port, but that is not true. Its LAN port is drop-down flap type and SONY has put little stands beneath its chassis which will let you plugin a full LAN cable. Smart-designing.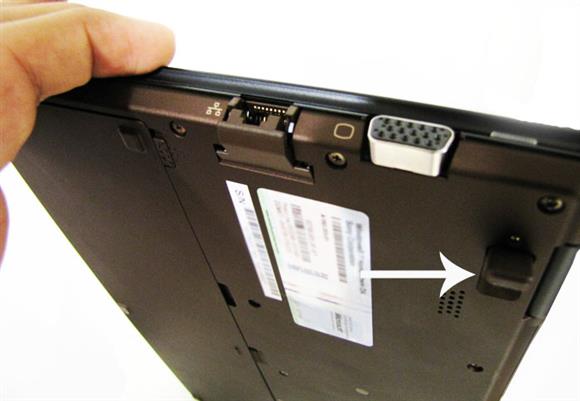 There is an SD card and Memory stick reader on the front of notebook along with battery, SSD and wireless indicators.
It packs a VGA port! Wait, what is the big deal about it?
SONY was able to pack in a VGA port into such a tiny chassis. That surely is commendable. Sure, it looks bit weird sitting on the right side of the unit, but atleast it is there.
Note that, SONY did not include a VGA port in SONY VAIO P. True, you were able to add it via an after-sale accessory, but having it on the body itself is a big plus. To be a serious business tool, having a VGA port is a must.
Sony VAIO P sitting on top of Sony VAIO X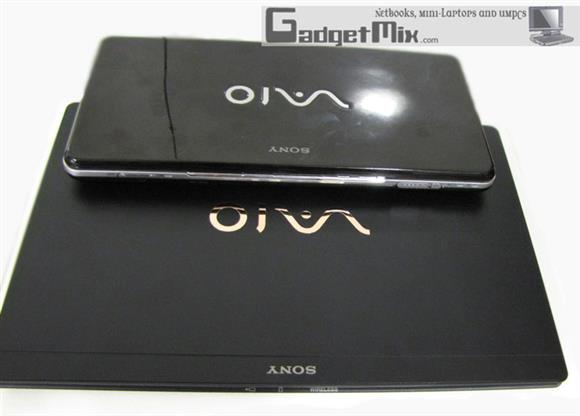 Is it a notebook or a netbook?
Well, SONY is not calling it a netbook. The core reason behind it may be that netbooks are generally cheap and VAIO X is not. For its price, you can easily get nearly 5-6 netbooks.
How does Windows AERO runs on it?
One word: Poorly. Oddly, SONY is selling it with Aero theme enabled. There is slight lag while opening as-well-as closing the windows. Everything fancy animation that the Aero brings to the Windows 7 left us unsatisfied. It would be better if SONY sells it with the Aero disabled. Potential buyers won't like a laggy machine if they are shelling $1000+ on a netbook.
Excuse my bluntness, but the GMA 500 graphics that VAIO X comes with ABSOLUETLY SUCKS. Poor graphics performance.
The VAIO Z's Z540 CPU played the video from Hulu just fine. Youtube standard video was flawless, but frames dropped when watching youtube HD videos.
Preinstalled software
The SONY VAIO X 64GB SSD model comes with Windows 7 Home Premium, plus a truck load of junkware. Here is the list of preinstalled apps
VAIO Content Explorer
VAIO Control Center
VAIO Data Restore Tool
VAIO Manual
VAIO Recovery Center
VAIO Transfer Support
Prepare your VAIO
Sony Picture Utility
VAIO Update 4
VAIO Video and Photo Suit
and this one deserves a special mention: McAfee Antivirus suit. We guess SONY forgot at sometime that VAIO X has an Atom CPU 🙂
And in the end, our of 53.1GB total capacity (rest is taken by recovery partition), you get only 39GB free.
Oh and SONY hate partitions. Whole 53 GB is one solid partition. Have a happy time installing your favorite partition app and making partitions.
Portability
Well, it is an 11.1-inch notebook and is very slim. Certainly, it will slip inside any notebook bag without a hitch, but then, it is an 11.1-inch notebook after all and is much bigger than VAIO P or any 8.9-inch netbook.
Battery Life
The VAIO X 64GB SSD version comes with a smaller battery than its 128GB SSD cousin. With it, we were able to get 2 hours of wireless use on a balanced mode with brightness set to medium and 3 hours with WiFi off.
We suggest you to get at least VGP-BPL19 battery which will be able to give you atleast 5-6 hours of wireless productivity.
What is Experience Index
It has 2.3 overall index. Here are its individual scores:
Processor: 2.6
Memory: 4.2
Graphics: 4.5
Gaming Graphics: 2.3
Hard Disk: 5.2
Difference between VPCX113KG (64GB SSD/Z540) and VPCX117LG (128GB SSD/Z550)
With the 128GB SSD version, you get Windows 7 Professional instead of Windows 7 Home Premium. On the 128GB SSD/Z550 CPU version, you also get Windows XP Professional disc. The 128GB SSD version is supplied with a higher capacity battery too (VGP-BPL19) which the SONY claims would give you 6.5 hours of battery life.
As the 128GB SSD VAIO X has bigger capacity, it weighs about 100gm heavier than the 64GB SSD version.
(+) Bright display
(+) Comfortable screen resolution
(+) Windows 7 Home Premium (kudos to SONY for not bundling Starter. Well, at this price, we should not expect Starter edition, right?)
(+) 64GB SSD = No moving parts
(+) It is unbelievably light!
(-) NO HDMI port
(-) No ION chipset, which means no HD
(-) No microphone socket
(-) Atom CPU: For this price, CULV is bare minimum that we would ask
(-) Only 2 USB 2.0 ports. Most netbooks have 3
(-) No Windows XP disk with the 64GB SSD version
(-) Aero, which is by default enabled, runs poorly
(-) Loads of SONY's crapware
(-) Not so comfortable keyboard. Too small keys even for a normal person
(-) Small right shift key
(-) Poor battery life with the entry level model.