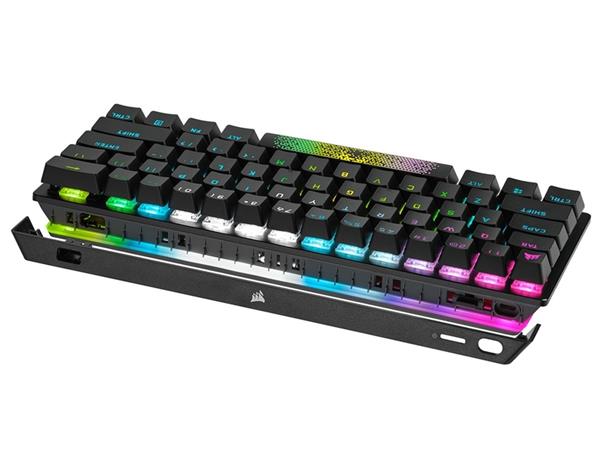 Corsair K70 Pro Wireless is a 60-percent keyboard that supports Corsair's unique ultra-low latency wireless connection called the SLIPSTREAM. In addition to SLIPSTREAM, the connection supports Bluetooth connection and USB wired connection. Corsair K70 Pro Wireless also features an ultra-fast polling rate of 8,000Hz with AXON technology.
Although Corsair K70 Pro Wireless is a 60% super compact keyboard, it has more shortcut functions than a general full keyboard, and you can register your favorite shortcuts and macros by combining two types of function keys. Settings can be made using the original system iCUE, and shortcuts and macros can be registered even in a PC environment without iCUE.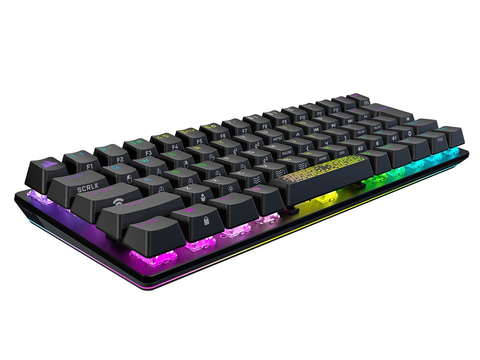 In addition to being equipped with N-key rollover and anti-ghosting, a highly durable PBT double shot is used for the keycap. The space bar on the Corsair K70 Pro Wireless comes with two types, a radiant bar that shines with RGB lighting and a standard. Also included is a keycap puller for keycap replacement and a keyswitch puller for replacement with a 3-pin type CHERRY MX compatible keyswitch.
Each key on the Corsair K70 Pro Wireless is equipped with RGB LEDs, and the backlit bar LightEdge 360-degrees located around the bottom of the keyboard is also equipped with 28 RGB LEDs. Various illumination settings are possible with iCUE.
The main body size of Corsair K70 Pro Wireless keyboard measures 293 x 109 x 40 mm width x depth x height, and the weight is about 640 grams. Battery life is up to 35 hours when the backlight is used and up to 200 hours when not in use.