OWC has launched a Thunderbolt 3 dock that comes equipped with two HDMI 2.0 ports supporting 4K/60Hz output, USB 3.0, USB 2.0, and Gigabit Ethernet. Supported OS is Windows 10 and macOS 10.12 or later.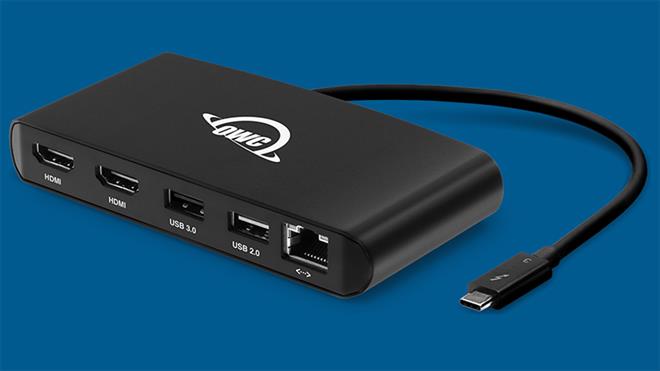 The main body size of OWC Thunderbolt 3 dock is 124 x 65 x 19 mm (width x depth x height), and the weight is 150 g. The cable length is about 20 cm.
There are not a lot of docks that offer two HDMI ports and so many USB ports. USB 3 port supports drives with 900mAor less power requirements. So any devices requiring 1.0A at slower rate than factory power adapter. Another thing to keep in mind is that there is no power supplied to any USB port when the computer is asleep.
Features:
Two HDMI 2.0 ports for two 4K displays
Connect a portable drive, flash drive, or card reader via one USB 3 5Gb/s port
Gigabit Ethernet port for better streaming, sharing, and surfing
Compact, lightweight, and no AC adapter needed
Supports HDMI precision multi-channel audio such as LCPM, DTS, and Dolby Digital
Charge small mobile devices and most smartphones via USB 3 port
One USB 3 and one USB 2 port for a drive, card reader, mouse, and device charging