Samsung PM1733 and PM1735 are new NVMe PCIe 4.0 SSDs up to 30 TB with anti death technology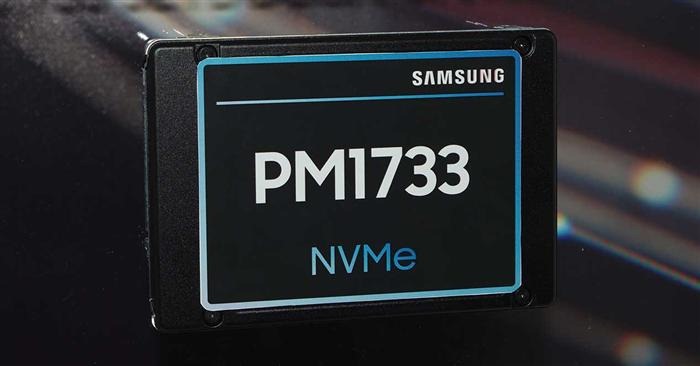 One of the most common problems of current SSDs is the fact that when they fail, it is to definitely say goodbye. The vast majority of times they do not allow us to repair the problem like common HDDs, so users and companies face a crossroads. Samsung plans to end this thanks to its two new PCIe 4.0 SSDs : its PM1733 and PM1735, which incorporate "anti-death" technology.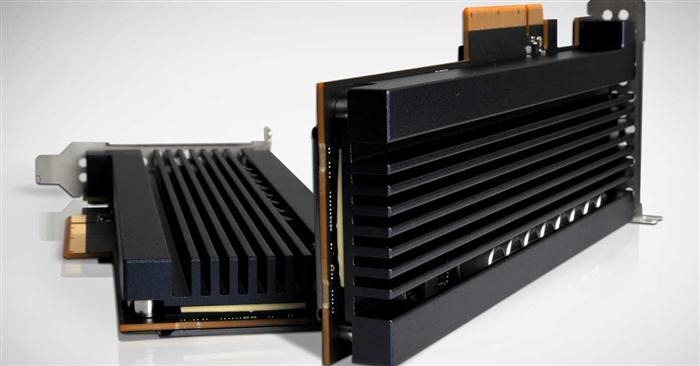 The two SSDs presented by Samsung achieve performance levels not seen so far, as well as madness capabilities that even HDDs are not currently achieving. But, in addition, the company has presented 3 new software aimed at improving key aspects of these new units, but before moving on to this, let's begin by describing the two new SSDs of the brand.
Samsung PM1733 specifications
The PM1733 will be the smallest of the brothers and will arrive in two sizes and with two different interfaces under the same data bus such as PCIe 4.0.
In this case, Samsung will offer up to 6 U.2 models in a 2.5-inch size with capacities of 0.96 TB, 1.92 TB, 3.84 TB, 7.68 TB, 15.36 TB and 30.72 TB, the latter being a milestone within the sector.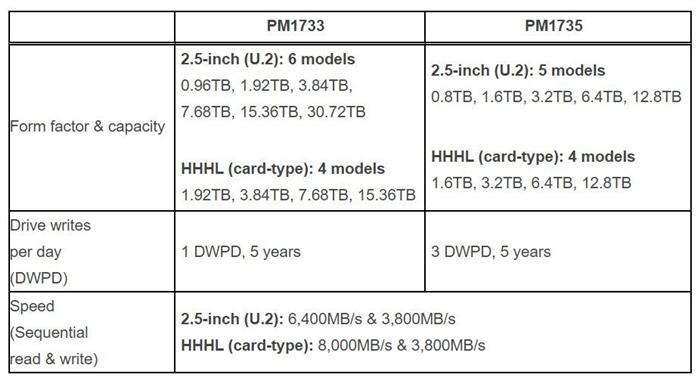 In addition, 4 more models will be offered in card-type format (HHHL) with sizes of 1.92 TB, 3.84 TB, 7.68 TB, 15.36 TB.
For the 10 PM1733 models, Samsung specifies a durability of 1 DWPD (Drive Writes Per Day) with a 5-year warranty, where speeds will vary between the chosen interfaces, since the U.2 will reach 6,400 MB / s in sequential reading and 3,800 MB / s in sequential writing.
The HHHL will reach even greater speed, since this will rise to 8,000 MB / s of reading and 3,800 of writing, both sequential.
Samsung PM1735 specifications
The PM1735 will be offered in the same formats as those of his younger brother, therefore, we will again have
U.2 with a size of 2.5 inches and in 5 different models differentiated by their capacity: 0.8 TB, 1, 6 TB, 3.2 TB, 6.4 TB and 12.8 Tb.
In contrast, the HHHL in card-type will only be offered in 4 models: 1.6 TB, 3.2 TB, 6.4 TB and 12.8 TB.
The main difference between this PM1735 is its DWPD, since it triples the rate of its brother (3 DWPD) maintaining the 5 year warranty. As for the speeds, copy those of the PM1733 for all capacities, so we will see in U.2 6,400 MB / s and 3,800 MB / s and in HHHL 8,000 MB / s and 3,800 MB / s respectively.
SSD life expectancy explained
Samsung has launched with these two new SSDs and as a presentation three new software that promise to create, according to the brand, a new paradigm in the world of high-capacity SSDs.
The first one is Fail-in-place or FIP, a technology that will prevent the SSD from dying when a fault occurs.
To do this, such software can detect defective chips, scan any data damage and relocate the data into working chips, all without losing performance.
Secondly, it includes a virtualization technology, where this software provides totally independent virtual workspaces for multiple users, so that several people can work in the same SSD without problem thanks to its capabilities and speeds.
Finally, both SSDs include a Deep Learning V-NAND technology, which uses big-data to accurately verify the validity of data even when they are operating at ultra high speeds.
Samsung plans to expand these innovative software technologies in a wide range of servers and data centers first, where SSDs are running 24/7 and where it is possible that in the future in their desktop products we will see similar technologies for the common user.
Posted by Taran Kaur on
September 20, 2019
in
Technology
Related topics