One Netbook OneGx1 with Intel Tiger Lake architecture photo released
Shenzhen based manufacture, One-Netbook Technology has released a photo of their next 7 inch laptop OneGx1 that will come equipped with Intel Tiger Lake generation processor. Expected release date is around 27th of April 2020.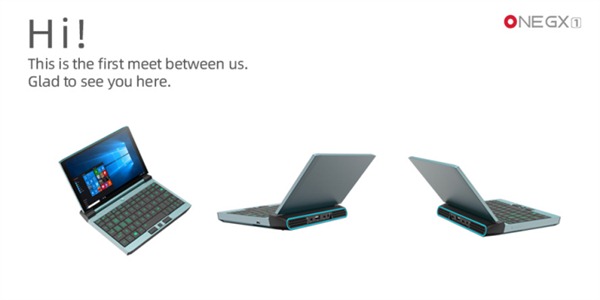 As you can see in the picture, the design is quite similar to Dell's Alienware Area-51m laptop, only much smaller. There are some obvious differences though other than size like there is there no trackpad and instead, One Netbook OneGx1 makes use of optical pointing device.
Its pointing device definitely reminds us of Sony Vaio P released back in 2009. However, the pointing nub was in center of keyboard and not between the left and right mouse click keys.
According to the information released so far by the company, these are the features of One Netbook OneGx1 –
* 1st 5G UMPC
* Intel Tiger Lake generation CPU
* M.2 slot, 1 expansion slot that can accommodate upto 2TB SSD
* comprises a SIM card slot, first 5G corresponding gaming UMPC laptop
* 5G / 4G switchable, lets you play online games without going relying on WiFi
* You can choose a 5G all Netcom network card to try the most cutting edge cloud technology of 5G network
Posted by Taran Kaur on
April 28, 2020
in
Technology
Related topics