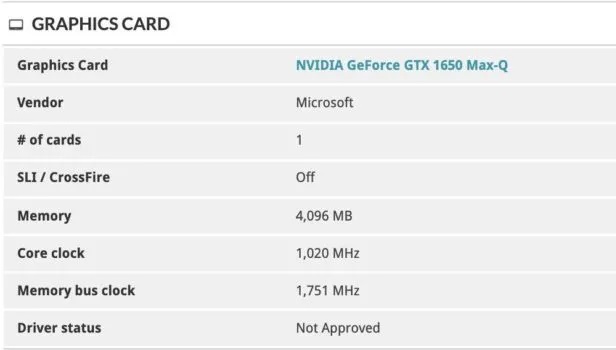 It is not common to find equipment that is designed, in theory, to work, with dedicated graphics cards that can turn the equipment into "something else." A new benchmark that has been leaked shows the next Microsoft Surface Book 3 convertible equipped with NVIDIA Max-Q graphics, and also with two different versions.
Certainly, it has been quite strange that Microsoft did not reveal its new Surface Book 3 in the last events – or first – of the year, but fortunately that does not mean that the company does not already have it in the spotlight. It is confirmed by the latest leaked benchmarks, which show us an advance of the hardware and the specifications that this equipment will have and that, really, are promising.
Certainly, the hardware of the Surface family has become quite obsolete in recent times, and it seems that Microsoft has a hard time adopting the new generations of hardware that have been released.
However, it seems that now Microsoft is going to change the rules of the game because according to the benchmarks that we are going to show you below, Microsoft has provided its next convertible with a next-generation hardware that includes tenth-generation Intel Core processors and NVIDIA Max-Q graphics, with two options at the user's choice that include a GTX 1650 and a GTX 1660 Ti, both in its Max-Q variant.
Unfortunately, it seems that we cannot count on high-end Intel tenth-generation processors (those of 45W of TDP), but we will have to settle for low-consumption options. Among the processors available on the Surface Book 3 are a 1.30 GHz quad-core Core i7-1065G7 and a 15-watt TDP, but Microsoft is expected to decide to increase the configurable TDP range to at least 25 watts to improve (quite ) machine performance.
It is noteworthy that it is strange that none of these potential specifications include AMD Ryzen processors, especially considering the improvements proposed by the company with the Ryzen 4000 family and that already made us think almost everyone that Microsoft and AMD were going to associate once more, just as they did with the Microsoft Surface Laptop 3 family of products.
In any case, and given that these specifications of the Surface Book 3 have appeared just a few hours ago, it certainly means that Microsoft is already planning the launch of these computers. After all, Apple's 16-inch MacBook Pro needs decent competition in the market but in Windows, although it is true that with the Intel processor that in theory they will equip, little competition in terms of performance is going to find Apple (reason for more to rethink AMD and its Ryzen 4000).