Micron X100 is fastest SSD in world 2019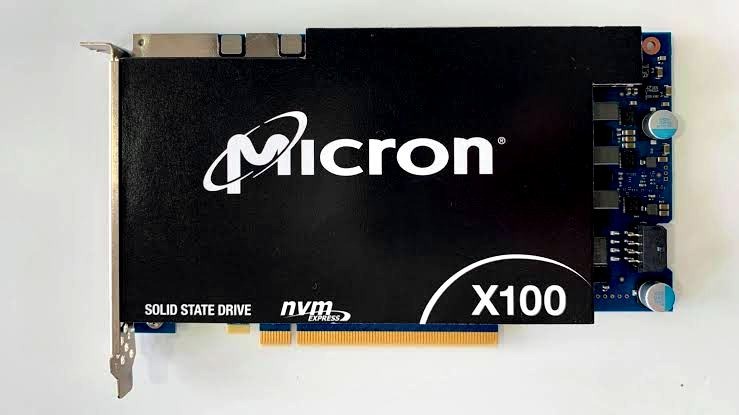 Micron has announced today what is positioned as the fastest SSD in the world. The Micron X100 is a PCI-Express SSD – in the form of an expansion card – that, thanks to 3D XPoint technology, is capable of delivering read speeds of more than 9 GB / s.
This product is intended for data centers and cloud storage, so it is not something that users will be able to buy at the moment. Of course, as always, manufacturers tend to devote the greatest advances in performance first to business environments so that soon after they reach homes, so it is not something we should discard from now. In any case, the news is that we are facing the fastest SSD in the world to date.
The Micron X100 takes advantage of the wide bandwidth offered by the PCI-Express 3.0 x16 interface, and in fact, even if it uses this interface and the NVMe protocol, it does not have the usual M.2 form but instead has the form of a PCIe expansion card. Although Micron has not revealed all the technical features of the device, it has published some numbers such as its 2.5 million IOPS for random 4K readings, and its near 10 GB / s sequential transfer rate.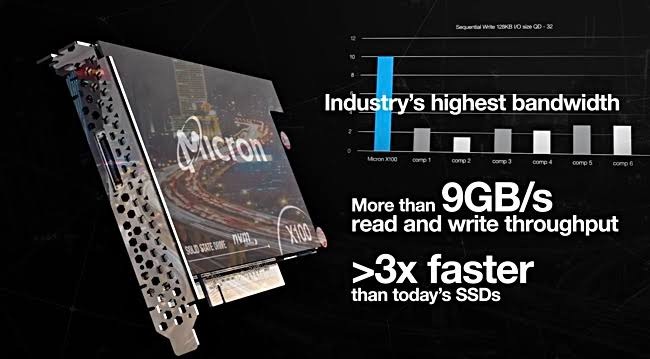 These data have been obtained from a video published by Micron in which some graphics appeared, but those 2.5 million IOPS seem too good to be true since they multiply by 5 the performance of the current Intel Optane SSDs, and of course they would unseat the Competition in a brutal way. We'll see if this is true or not.
They have also said that the latency of this solid-state device is 8 nanoseconds or less, incredibly fast and better than the 10 nanoseconds of the Intel Optane, a difference that already seems more normal than the theoretical gross performance of the device.
A fact that they have not given but that is at least curious is the consumption. Given that it is installed in a PCI-Express socket and has an 8-pin PCIe power supply connector, its maximum consumption would be 175 watts, which for a storage unit is very, very high.
This SSD is co-developed by Micron and Intel using 3D XPoint memory as an alternative to Flash memory, a type of memory that, so far, has only reached the market with Intel's Optane products, and is in fact focused on competing with these products (at least against the second generation Intel Optane). It's funny because Micron already announced in 2016 the first products with XPoint 3D memory, but it wasn't until three years later when they presented the first one.
At the moment there is no definite release date. As for commercial products based on this technology, they are not expected until at least 2021.
Posted by Brooke on
October 25, 2019
in
Technology
Related topics