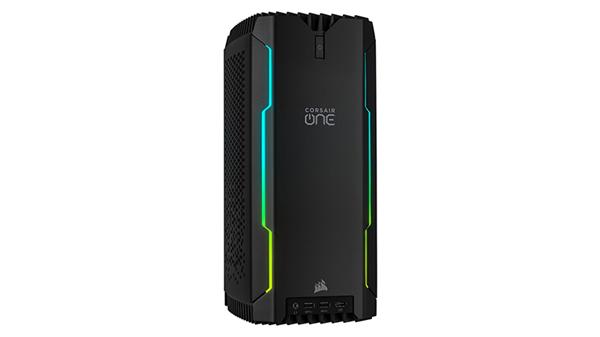 Corsair One i145s is a gaming PC that is equipped with latest Intel Core i7-9700K (8 cores / 3.6 GHz) CPU, Nvidia's top of the range GeForce RTX 2080 SUPER dedicated GPU, and equipped with water cooling cooler for both high processing performance and quietness. The Corsair One i145 will be released on 16th May 2020 for 3400 dollars.
In addition, Corsair One i145s features 32GB memory, 960GB M.2 NVMe SSD, 2TB HDD, 600W 80PLUS Gold power supply, etc. The size of the Corsair One i145s' chassis is 172.5 x 200 x 380mm (width x depth x height). Windows 10 Home is the main OS of this gaming PC.
The interface selection of Corsair One i145s includes USB 3.1 × 2 (1 type-C), USB 3.0 × 4, USB 2.0 × 2, PS / 2, HDMI 2.0a, DisplayPort × 3, Gigabit Ethernet, IEEE 802.11ac compatible wireless LAN, voice input Equipped with output etc. The body weight is about 7.4 kg.
There are plenty of ports at the front as well which is important for plug-and-play hardware like USB sticks. Is it expensive? Yes, definitely but for someone who does not want to assemble their own computer and want top of the line hardware, Corsair One i145s gaming PC is a no brainer.