Corsair Force MP510 4TB M.2 NVMe SSD
4TB M.2 NVMe SSD has been released by Corsair and it is called Force MP510. It will go on sale on June 6 and the estimated retail price is around 1000 dollars.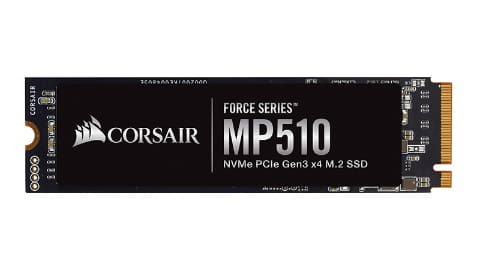 The Corsair Force MP510 series is a PCI Express 3.0 x4 connection NVMe SSD that uses 3D TLC NAND flash and Phison PS5012-E12 controller. Corsair has already sold 4 models with these capacities – 240GB / 480GB / 960GB / 1,920GB and 4TB model will join them.
The maximum transfer rate of Corsair Force MP510 4TB M.2 NVMe SSD is 3,480 MB/s for sequential read, 3,000 MB/s for write, 580,000 IOPS for random read, and 680,000 IOPS for write. The total write capacity is 6,820 TBW.
Corsair Force MP510 4TB M.2 NVMe SSD specifications
Power consumption
Active (read): 7.7W
Active (write): 6.6W
Idle: 44mW
durability 6,820TBW
Form factor M.2 Type 2280
Memory type 3D TLC NAND
interface PCI Express 3.0 x4 (NVMe 1.3)
controller Phison PS5012-E12
Read speed Maximum 3,480MB/s
Writing speed Maximum 3,000MB/s
4KB random read 580,000 IOPS
4KB random writing 680,000 IOPS
MTBF 1.8 million hours
Warranty period 5 years limited warranty
Model number CSSD-F4000GBMP510
JAN code 0840006622925
Ask code HD2818
Operating temperature 0 to 65°C
Posted by Taran Kaur on
June 4, 2020
in
Technology
Related topics