ASUS ZenBook Pro Duo review – Unpractical gaming laptop with two 4K screens that will change the way you see things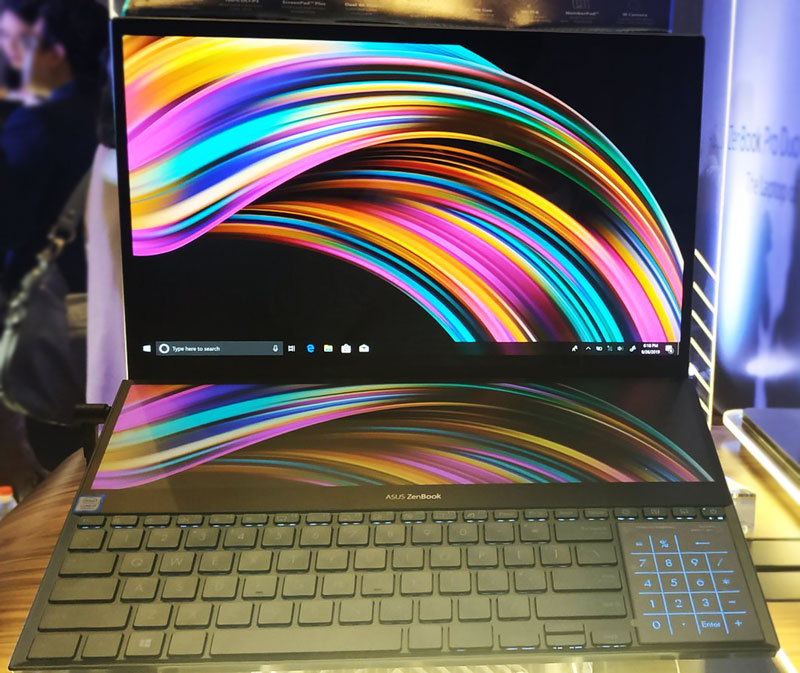 Taking advantage of Computex 2019, ASUS, like other manufacturers, have presented to users what will be their new high-end technology products. Although throughout the fair we have been able to know great releases, without a doubt one of the revolutionary products was the ASUS ZenBook Pro Duo, the first top-of-the-range laptop with two 4K screens that open the door to a new world of possibilities, both in leisure As in the gaming world.
This laptop is ideal both for playing, given that it carries high-end and latest generation hardware, as well as for working, and its two screens allow us to take our day-to-day productivity to unsuspected limits.
ASUS ZenBook Pro Duo review- specifications
As we have said, the main attraction of this laptop is its double screen and boy, Asus ZenBook laptops have definitely come a long way. On the one hand we will have the main screen of it, a 15.6-inch screen with OLED panel, 4K resolution, HDR and a 16: 9 aspect. This screen covers 89% of the surface of the lid and has a viewing angle of 178 degrees. This screen is also touch sensitive. At the top of the screen we will find an IR camera that we can use for facial recognition with Windows Hello.
On the other hand, the second screen, or lower screen, also a touchpanel, is 14 inches 4K display and its resolution is 3840 x 1100 pixels. This screen is located above the keyboard and, broadly speaking, it can be used as a second monitor connected to your computer.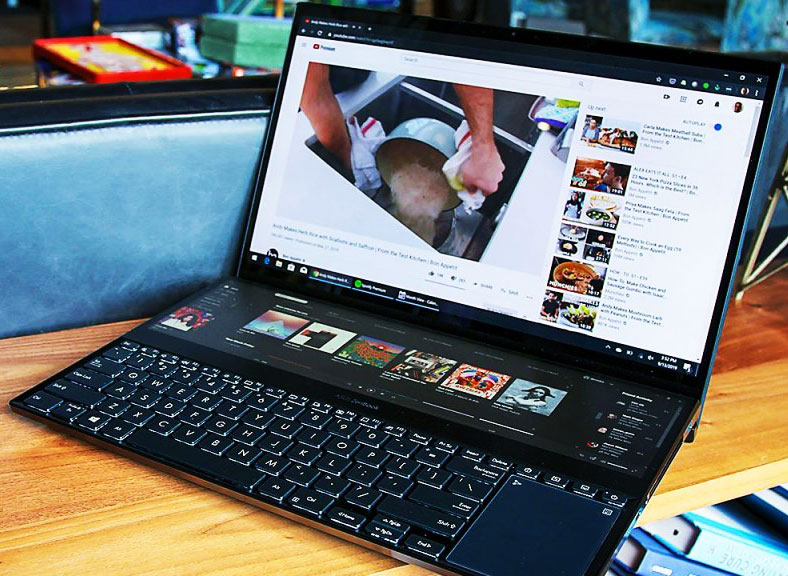 The keyboard of this ASUS laptop has all the backlit keys, although it is not RGB. A lot of gaming laptops that are much cheaper than this, think Gigabyte Aorus 17, pack more powerful specifications and pack RGB keyboard that lets you set any color to keys.
The trackpad is to the right of the backlit keyboard and, thanks to ASUS technology, it can be easily converted into a numeric keypad by pressing a button.
The laptop's case is made entirely of high quality aluminum. This aluminum has its own color, Celestial Blue, and takes care of all the details of the laptop to turn it into a premium equipment of the highest range.
In addition to all these features of this laptop's screens, internal hardware is also very important. Inside the case of the laptop we will find an Intel i9-9980HK processor, a latest generation CPU of the highest range that will give us outstanding performance in all types of tasks. This processor is accompanied by 32 GB of 2666 MHz DDR4 RAM.
This laptop wants to open a gap also among the players. And so, ASUS has opted for an NVIDIA RTX 2060 to move the two 4K screens. This graphics card is the latest generation and is prepared for Ray Tracing, the latest gaming technology that is gradually evolving. The RTX 2060 also has 6 GB of VRAM memory.
As for storage, ASUS has installed a 1 TB NVMe PCIe 3.0 SSD inside this laptop.
Other important elements to consider are, for example, the WLAN6 802.11ax and Bluetooth 5.0 WLAN network card, as well as the two USB 3.1 A ports and a USB 3.1 Type-C port. As for the battery, we have an 8 cell unit and 71 WH.
Finally, all this hardware runs on a Windows 10 PRO 64-bit operating system.
As for the size of this laptop, it has a height of only 2.4 cm closed, 35.9 cm long and 24.6 cm wide. As for the weight, with battery, we are talking about 2.5 Kg.
Unboxing, analysis and first impressions of the ASUS ZenBook Pro Duo laptop
This laptop comes in a black cardboard box with the ASUS logo and motto. What stands out in this box is the sticker on which we can see the specific laptop model (since there are several models with different processors, different RAM and different hard disk) with their specific specifications.
We open the laptop case and the first thing we find is with its charger. Unfortunately, what we have here is a very large and heavy charger. Surely ASUS could make it smaller and more manageable, although it has not been the case.
In addition to the laptop, we will also find a blue box. Inside it we will find the ASUS ZenBook Pro Duo. We will also find a touch pen that we can use to write easily on the lower screen, or even to scroll from the upper screen.
The design of the laptop, as we have said, is bluish aluminum. A design that, personally, we liked. On the sides we will find the different connectors offered by this model.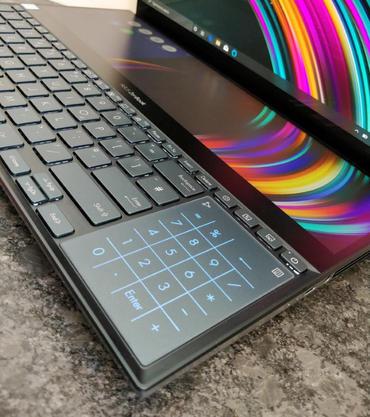 Although with the lid closed, this laptop it may seem like any another laptop model, without any relevant novelty. But when you open it, we can see that we are looking at something revolutionary. Normally laptops have the bottom reserved for the keyboard and trackpad. This model, on the other hand, reserves a small space for it, along with the trackpad in a corner, and gives greater prominence to the secondary screen. The trackpad can also be converted into a backlit numeric keypad by pressing just one key.
ASUS ZenBook Pro Duo review – A bit heavy and unpractical
Although it is not exactly a MacBook Air in terms of weight and size, having the hardware that includes this model the truth is that, although a bit heavy, we are not facing something excessively large or bulky. A medium-sized laptop but with a beast inside.
We turn on the laptop and see how the hardware begins to show its potential from the first moment. Although the first time it may take a little longer for the account to start, in future shutdowns or reboots we will see how in just a few seconds we have a laptop running and ready to go.
The keyboard lights up from the first moment, and we can adjust various intensity levels. In addition, the trackpad, which is normally turned off like any other, can very easily turn it into a numeric keypad with blue light. And pressing a key will be a normal trackpad again.
The ASUS ZenBook Pro Duo positions itself as a very high-end laptop. As we have explained, in addition to the two 4K screens, this laptop comes with a ninth-generation i9 processor, in addition to 32 GB of RAM and the NVIDIA RTX 2060 graphics card, so when measuring its performance we will do it as if it were a high-end gaming computer to see the performance of its components individually and its set in benchmarks and latest generation games.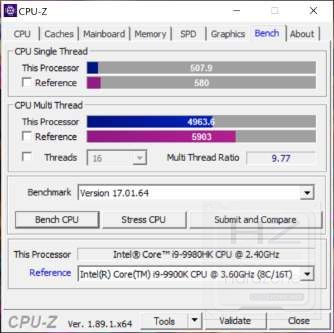 The first thing we are going to do is see the technical details of the most important components, that is, the CPU, the GPU and a general summary of the equipment generated with the AIDA64 tool.
ASUS ZenBook Pro Duo review – Fast. Very Fast.
We will also measure the overall performance of the CPU using the CPU-Z benchmark itself. As we can see, its performance, although it is below that of an i9-9900K processor, is quite close. Good job to be a laptop.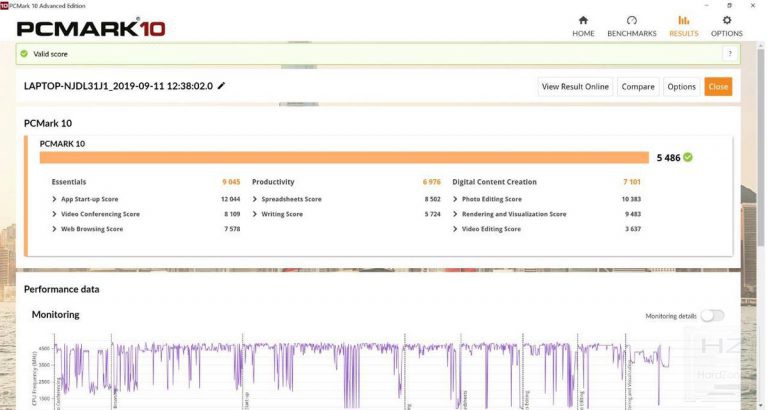 We have also used the Cinebench R20 tool to measure processor performance when rendering complex images. As we can see in the comparative graph of the program, its performance is outstanding, being surpassed only by the TR and the Xeon.
Another performance test that this team could not miss is the NVMe SSD speed test that it includes. In addition to maintaining good temperatures, the overall performance of the storage unit is not bad, although it is slightly below what we expected (closer to 3000 MB / s of sequential writing).
Starting with the general performance tests, the first thing we do is measure the computer performance when performing daily operations. To do this, we will use the PCMark tool.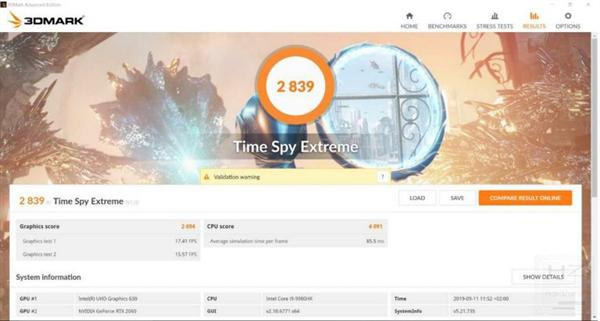 This tool measures the performance of the system when performing all kinds of tasks and returns a note based on the average performance of all of them. 5500 points is very good for all kinds of work, although this team is weakest in video editing.
We will also measure the performance in games using the well-known 3DMark benchmarks. For this we have used the Time Spy Extreme, Time Spy and Port Royal tests and the values we have obtained are the following:
Although they may seem quite good, if we compare them with those obtained with an NVIDIA RTX 2060 FE graphics card and an Intel i7-8700K desktop processor, we can see that the performance is slightly below expected.
Finally, we have also approved the performance of this computer using the Metro Exodus game. For this we have used its own benchmark and, as we can see, with the graphics configured in extreme, and without Ray Tracing, in 1080 the game is more or less playable, but in 4K it is impossible to play. The computer is at its limit already.
Without a doubt, one of the most impressive features of this laptop is its double screen. We have already seen other dual-screen laptops, such as the Lenovo Yoga Book C930, a laptop that had a full screen of electronic ink on the bottom and could play a lot.
This ASUS model wanted to go further and opted for a 4K OLED screen at the bottom. This screen behaves, in broad strokes, like a second monitor. Even Windows detects it as such if we enter the screen properties of the computer.
Within Windows we can use this screen as we want. We can place windows in it, browser tabs, programs, etc. A very useful use, for example, is to place the Spotify window at the bottom to always have our playlists at hand. The windows that we place in this lower screen can be placed in different sizes. And thanks to the touch screen, we can even use both at the same time.
ASUS has its own menu of tools for this touch screen. This menu allows us to configure quick access applications (which we can open by pressing with our finger on them), and we can also have at hand a series of tools to use directly from this screen, such as the ability to write by hand (and with recognition of typing), enable a numeric keypad, hot keys and much more.
From this menu of tools we will also be able to configure the behavior of this lower touch screen. For example, we will be able to adjust its brightness, the background, the size of the windows that we open in it, the available menus and functions and the energy saving functions.
In addition, very interesting, we will be able to configure from here the resolution of this screen. If in 4K we find it complicated to use and read, we can easily set it to 1920 × 550.
Given the proportion of this screen, resolutions are quite rare. We will have a fairly wide screen but very little high. The possibilities that it offers us, although there are many, are quite limited due to this proportion.
ASUS ZenBook Pro Duo review – Personal opinion
Of course we have a very powerful laptop that will be able to perform any type of task, from day-to-day use to playing or multimedia editing without problems. The two screens of this computer, in addition, open a complete world of possibilities, being able to use them as if we had two monitors connected to a PC. The upper screen offers excellent quality thanks to its OLED technology and 4K HDR, while the lower one is one of the most original aspects thanks to which we can significantly improve our productivity.
However, we must highlight some negative elements of this team. The first is that, despite their hardware, in the benchmarks and in game tests the results have left a little to be desired. Surely this is the fault of the RAM, which as we explained above works at 2666 MHz, while the RAM of any gaming PC exceeds 3000 or 3200 MHz.
These issues have been reported by our friends at mobile tech review as well, who has been reviewing laptops from past one decades, like us.
On the other hand, we must indicate that the price is exaggerated just like the ASUS ROG Zephyrus G GA502 that was recently launched. It is true that we are facing a very powerful and relatively small team compared to the size (and weight) that some other gaming computers usually have. However, 5000 dollars for this laptop, for many screens you have, is very exaggerated. We have equal or better gaming computers with better graphics, for example for half the price in the market.
Pros of ASUS ZenBook Pro Duo
Very powerful next-generation computer.
Excellent processor and NVIDIA RTX graphics.
Dual OLED 4K HDR and touch screen.
Appropriate size and weight.
Backlight keyboard. Trackpad that becomes a numeric keypad.
Cons of ASUS ZenBook Pro Duo
The frequency of RAM is too low.
It could have been equipped with better RTX graphics card to give the games better performance.
Exorbitant price. Not even the two screens justify more than 3000 dollars.
Backlit keys are not RGB.
Posted by Brooke on
October 6, 2019
in
Reviews
Related topics