Asus Vivo AiO V222FAK is 21.5-inch All in One Computer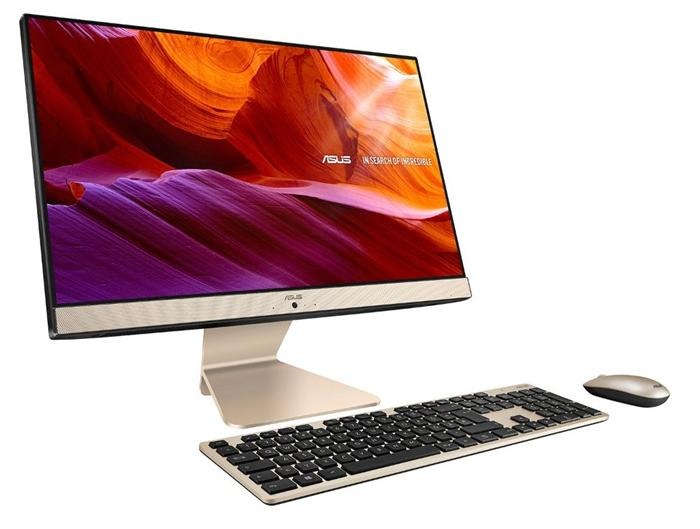 Asus has released the 21.5-inch integrated PC Vivo AiO V222 FAK. The price is 1030 dollars. The Asus Vivo AiO V222FAK is an all-in-one PC featuring a narrow frame design with an Intel Core i7-10510U 10th generation processor.
Asus Vivo AiO V222FAK comes equipped with 21.5-inch full HD 1,920 x 1,080 pixels non-glossy LCD and the screen occupancy rate is 83%. This means bezels are very small.
If you are looking for an alternate to Apple iMac, Asus Vivo AiO V222FAK is a great choice. Like iMac, it comes with wireless keyboard and mouse. Plus, it looks much better than iMac.
Other major Asus Vivo AiO V222FAK specifications include 16GB memory, 512GB PCIe SSD, and Windows 10 Home operating system. The interface selection includes USB 3.0 x 4, USB 2.0, Gigabit Ethernet, IEEE 802.11ac compatible wireless LAN, Bluetooth 5.0, HDMI, 920,000 pixel Web camera, voice input/output, etc.
The main body size is 489 x 51 to 164 x 387 mm (width x depth x height), and the weight is about 4.8 kg. It comes with 12 months. Power consumption is up to approximately 90 watts.
External accessories include AC adapter, wireless keyboard, wireless mouse, product warranty and external DVD drive.
Posted by Kamaldeep Singh on
August 8, 2020
in
Technology
Related topics