MSI RTX 4060 Ti GAMING X TRIO 8G Magic Dragon features TRI FROZR 3rd generation cooling system. The active cooling part is 3 blade 7th generation fans, which supports intelligent start and stop, effectively reduces noise and prolongs fan life under no-load conditions.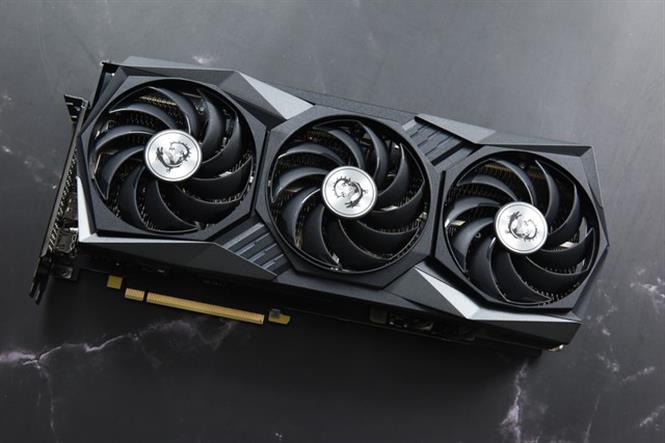 Three sets of fan blades inclined at 22 degrees are connected into a ring, which can maintain high-pressure airflow even at low speed. A specially constructed fan cover is added to the edge of the fan blade, which greatly improves airflow stability and reduces noise.
MSI RTX 4060 Ti GAMING X TRIO 8G Magic Dragon features a one-piece die-cast metal backplane. It can be clearly seen from the back that the PCB is almost half the size of the whole card, and the large-area cooling fins are exposed, which provides adequate heat dissipation for the graphics card.
However, due to the expansion of the hollowed-out area of ​​the back panel, the logo of Dragon Shield and the GeForce RTX logo can only be arranged in a stitch-by-seat arrangement.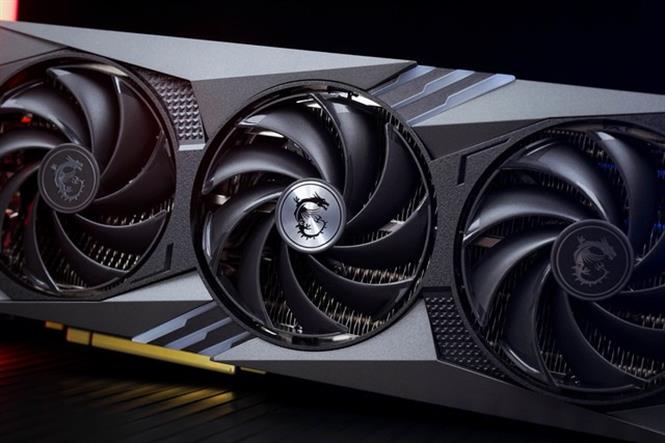 MSI RTX 4060 Ti GAMING X TRIO 8G uses a nickel-plated copper base for internal heat dissipation, which can quickly transfer the heat generated by the GPU core and memory particles to the heat pipe, improving the overall heat dissipation efficiency.
On the side of the MSI RTX 4060 Ti GAMING X TRIO 8G Magic Dragon, you can see a single 8pin power supply interface, which only needs a 550W power supply. It is definitely a blessing for old users to upgrade.
On the video output interface, the four-interface design of HDMI 2.1 + DP 1.4a*3 is still used. HDMI 2.1 can support 4K 120Hz HDR, 8K 60Hz HDR.
MSI RTX 4060 Ti Magic Dragon benchmark
The RTX 4060 Ti 8GB from MSI has a total of 4352 CUDA cores, providing 22-TFLOPS computing power; 34 third-generation Ada RT Cores have 51 RT-TFLOPS ; 136 fourth-generation Tensor Cores can provide 353 Tensor-TFLOPS.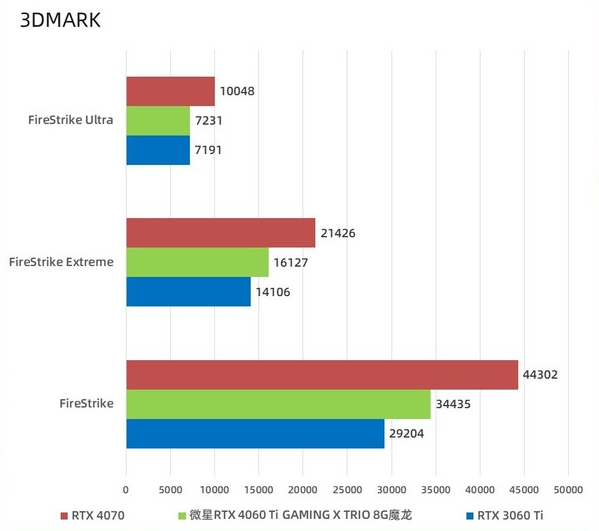 In the 3DMARKFS suite test for graphics card DX11 performance, MSI GeForce RTX 4060 Ti GAMING X TRIO 8G Magic Dragon is mainly compared with the previous generation RTX 3060 Ti, of which FS has increased by 18%; FSE has increased by 14%; FSU has increased by 1 percent. It can be seen that the performance improvement compared to the RTX 3070 Ti is about 11% .