RedmiBook 14 2019 released, comes with updated Intel 10th generation processor – RedmiBook 14 2019 specifications – RedmiBook 14 2019 price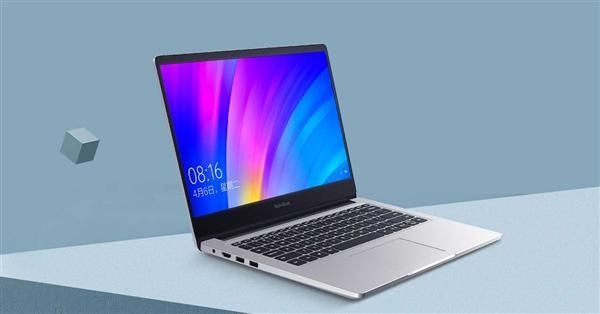 Xiaomi's big update with its latest generation laptops goes by leaving Intel's Whiskey Lake architecture behind and with it the eighth generation of blue giant processors for the new Comet Lake architecture.
This implies, of course, new processors of the 10th generation of Intel, which come with some improvements that we already mentioned in its presentation just over a week ago. In addition, the catalog of available models is expanded, since we go from two to three, where each one has similarities and differences that should be noted.
First, let's start with the characteristics that each and every one of them will share: they will maintain the 14 ″ screen with FHD resolution and that represents 81.2% of the total size of the same, will include the new NVIDIA graphics card for laptops Low consumption, that is, the MX250, its weight will remain at 1.5 Kg of the original model and therefore its thickness does not increase, staying at 17.95 mm.
RedmiBook 14 2019 introduction video
Your keyboard will remain full size, where your keys have a 1.3 mm travel and will carry the same external connections as the original model. The battery will also be maintained, so we will have up to 46 Whr, a figure that is more than enough for this type of device.
So far the similarities, which as we see are a great majority if we take into account the basis of the previous models, so it seems that the news will be quite short.
These are based on two factors: new processors with new technologies and higher performance and new configurations in the models.
The whole presentation of the new Xiaomi RedmiBook 14 revolves around Intel processors, since they are the great novelty for the Chinese. And we will have three CPU models available depending on the laptop model chosen.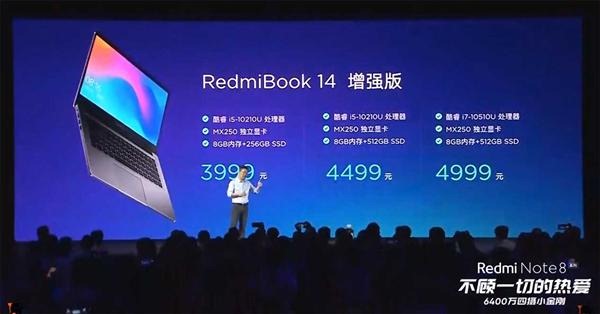 Thus, the most basic RedmiBook 14 will carry an Intel Core i5-10210U, a CPU with four cores and eight threads with a base frequency of 1.6 GHz and a Boost that will rise to 4.2 GHz. It will carry 6 MB of L3 and a consumption of 15 watts, in addition to the NVIDIA MX250 already named.
Its RAM will be 8 GB at 2666 MHz – which is a leap forward compared to the 2400 MHz of the previous model – and will arrive with a 256 GB SSD.
The model that will be above this will carry an Intel Core i5-10201U CPU and therefore will share a model with its lower brother, where it will also include an NVIDIA MX250, 8 GB of DDR4 at 2666 MH z and as a novelty a 512 GB SSD, being the only difference with the previous model.
Finally, the most powerful model of the RedmiBook 14 will hit the market with an i7-10510U, which includes four cores and eight wires at a base frequency of 1.8 GHz with a Boost of 4.9 GHz. In addition, its L3 cache increases to 8 MB, all maintaining the same nominal TDP of 15 watts as its lower brother.
It will include 8 GB of DDR4 2666 MHz and a 512 GB SSD, obviously the main difference with the other models is its processor.
RedmiBook 14 launch event video
It was expected that the expansion to three models would diversify the options for users and where at the same time three different prices were established. Seen the models in depth, we only have to know the prices, which have been set at:
RedmiBook 14 with i5 + 8GB + 256GB: 3,999 yuan (505 dollars)
RedmiBook 14 with i5 + 8GB + 512GB: 4,499 yuan (568 dollars)
RedmiBook 14 with i7 + 8GB + 512GB: 4,999 yuan (631 dollars)
As we see, prices remain more or less unchanged, which is good news for those who want to update or make the leap to this type of more compact laptop, where they will be available from September 6.
Posted by Taran Kaur on
September 2, 2019
in
Technology
Related topics