One Mix 3 Pro Platinum Edition Review
This is One Mix 3 Pro Platinum Edition review. One Mix 3 Pro Platinum Edition can be transformed into four styles: laptop, stand, tent, and tablet mode. The hinge has sufficient rigidity, and even if you hold it on one side and rotate it, you do not have to worry about the display tilting left or right.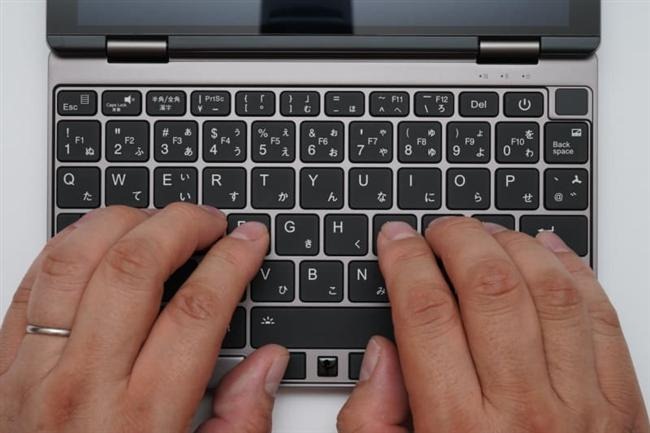 One Mix 3 Pro Platinum Edition runs Windows 10 Home 64bit for the OS and 10th generation Intel Core i7-10510Y (4 cores 8 threads, 1.2-4.5GHz) for the CPU as described above. The memory is 16GB (DDR3L-1600 SDRAM) and the storage is 512GB (PCIe NVMe SSD). In other words, from the previous model OneMix 3 Pro, only the processor has been upgraded to latest Intel 10th generation.
The One Mix 3 Pro Platinum Edition's display uses 8.4-inch IPS liquid crystal (2,560 x 1,600 pixels, 358ppi, brightness unpublished, color gamut unpublished, gloss, touch compatible, stylus pen compatible, Gorilla Glass 4). A stylus pen compatible with Microsoft Pen Protocol is available, but it is not included in the main unit.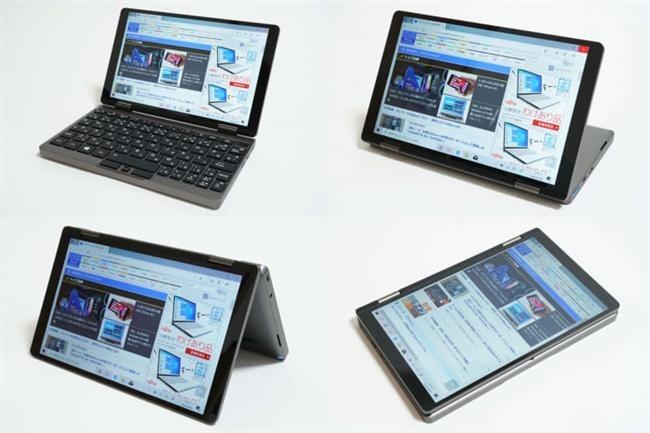 The communication function supported by One Mix 3 Pro Platinum Edition is IEEE 802.11ac (up to 443Mbps) and Bluetooth 4.1. WWAN compatible model is not available.
The battery capacity is 8,600mAh. Battery life and battery charging time are not disclosed.
The security function is equipped with a Windows Hello compatible fingerprint authentication sensor. If you want to effectively utilize the limited space on the keyboard, it is better to use the power button integrated type, but probably because of cost reasons, you have adopted an independent fingerprint authentication sensor.
The color of One Mix 3 Pro Platinum Edition is one color of gray black, but One Mix 3 Pro Koi Limited Edition with carp in crimson case color is also available. It is 143,000 yen excluding tax and 4,000 yen higher than the platinum edition, but a 2,048-step pen pressure detection pen of the same color as the main body is included as standard. The price of the 2,048-step pen pressure detection pen excluding tax is 2,800 yen, so the actual price difference between the two is only 1,200 yen.
The case of this product is made of CNC machined aluminum magnesium alloy. The texture is very high. The processing accuracy is high, and the seams of the parts fit perfectly. If you realize a luxury that satisfies your desire to own, you will be able to hit the drum.
The main body size is 204 × 129 × 14.9 mm (width × depth × height), and the weight is about 0.67 kg. The size is small and you can feel the heavy weight. However, if you consider the 360 ​​degree rotation type hinge mechanism, the large 8600mAh battery for the 8.4 type, and the wall thickness to secure rigidity, it is a level that you can understand.
The interface provides USB 3.0 Type-C (USB Power Delivery 2.0 compatible), USB 3.0 Type-A, Micro HDMI, 3.5mm headset jack, microSD card slot (up to 256GB). It is a standard specification for UMPC. Micro HDMI is a little uncomfortable to use, but if you prepare an adapter that converts from Micro HDMI to HDMI, you will not have any problems.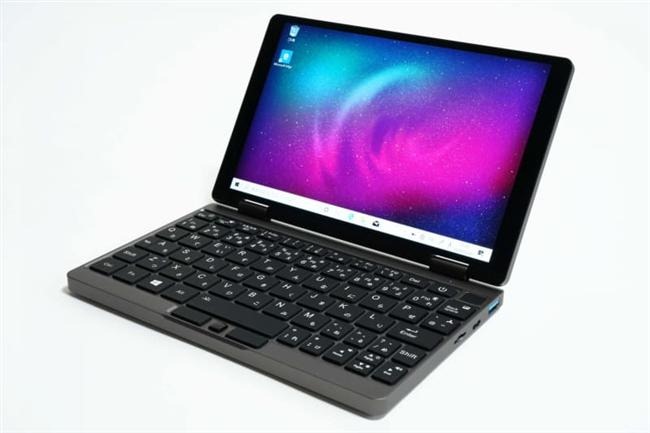 Personally happy equipment is a display protection film. Even if it is covered with Gorilla Glass 4, if there is hard dust on the cleaning cloth, it may be scratched when wiped. There are many opportunities to touch the screen with this product that supports touch operation and stylus. It is a nice consideration for those who are not good at sticking a display protection film.
The product is perfect in terms of hardware perfection, such as the rigidity of the housing and the smooth movement of the hinges, but it has only one dissatisfaction with the usability of 2in1. The key is to react unless it is completely transformed into a tablet state.
The general 360-degree display rotating type 2in1 has many products whose keys are invalid when opened 180 degrees or more. This product, which has a small housing, tends to touch keys when rotating the display. It's not a fatal flaw, but I would like you to improve it in the newly designed model released in the future.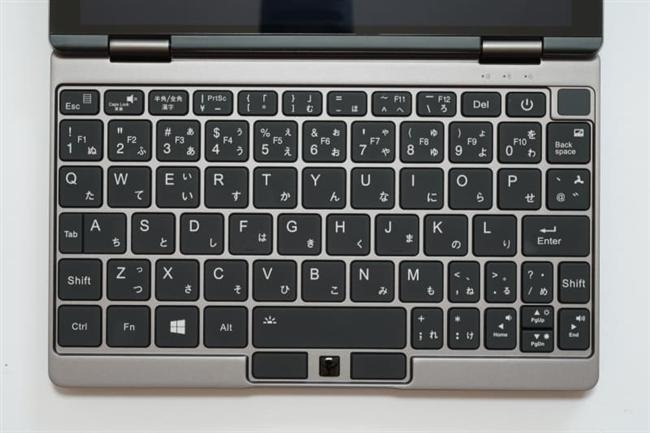 Personally, I was pretty close to the ideal keyboard. The measured key pitch is approximately 18.2 mm and the key stroke is approximately 1.3 mm. The keystroke feeling is good and the keystroke sound is low. Above all, the keyboard layout of the Japanese keyboard is wonderful without compliment!
This product is equipped with 8.4-inch IPS liquid crystal (2,560 x 1,600 pixels, 358ppi, gloss, touch, stylus, Gorilla Glass 4). Luminance and color gamut are not disclosed. Then, when I checked it with the display calibration device i1Display Pro and the chromaticity diagram creation software ColorAC, the brightness was 242 cd / square meter, the sRGB cover ratio was 92.6%, and the Adobe RGB cover ratio was 68.9%. The display quality is just below average for mobile laptops.
On the other hand, I did not expect much about the sound side because the housing is small, but unexpectedly the volume is large and the sound quality is not bad. It's a big difference from the sound that is typical of thin laptop PCs. However, at the maximum volume, the sound is a little cracked. Actually, up to about 80% is a practical volume, but if you put it in front of you and listen to it, you can enjoy music with a sufficient volume.
Now let's check the performance of the OneMix 3 Pro Platinum Edition with the last processor upgrade. The following benchmark is being implemented this time.
Comprehensive benchmark PC Mark 10 v2.0.2165
Battery benchmark PC Mark 10 Modern Office Battery Life
3D graphic benchmark 3DMark v2.11.6866
CPU / OpenGL benchmark CINEBENCH R15.0
CPU benchmark CINE BENCH R20.060
3D Game Benchmark Final Fantasie XIV: Raven Rebel Benchmark
Storage benchmark "Crystal DiskMark 7.0.0"
It's a bit anomalous as a comparison target model, but I compared it with the Windows 10 environment of 13-inch MacBook Air equipped with Core i5-1030NG7. Both categories are very different, but OneMix 3 Pro Platinum Edition is TDP 7W Core i7-10510Y, 13 inch MacBook Air is TDP 10W Core i5-1030NG7, both low power consumption type Equipped with a processor. Although there may be few people who are worried about which one to buy, comparing the benchmark scores was an interesting result, so please look at it as a spectator of mixed martial arts.
Let's start with the results of CINEBENCH. " One Mix 3 Pro Platinum Edition " is " 444 cb " which is equivalent to about 126% in " CPU " of CINEBENCH R15.0 and " 114 c% " in " CPU " of CINEBENCH R20.060 compared to " 13 inch MacBook Air ". It records 958 pts, which is equivalent to. However, in the macOS Catalina environment instead of Windows 10, 13 inch MacBook Air hits 964 cts with CPU of CINEBENCH R15.0 and 964 pts with CPU of CINEBENCH R20.060. Reverse. In other words, the score on the original OS is higher on the 13-inch MacBook Air. However, the 8.4-inch UMPC is worthy of the evaluation, recording the outstanding score of 13-inch MacBook Air even though it is a Core i5.
However, it seems that cooling is not catching up in order to squeeze out the same performance as the 13-inch laptop in the 8.4-inch UMPC housing. When CINEBENCH R20.060 was executed three times and measured with a thermography camera, the bottom surface temperature reached a maximum of 49.8 degrees. Magazines, bags, etc. should be inserted when performing high-load processing on the knees.
The UMPC market has revived with the 7-inch GPD Pocket, but the current battlefield has moved to the 8-inch. With the 7-inch, it is difficult to type at full speed due to the keyboard layout and size, and the letters are inevitably small, so it is easy for the eyes to get tired. I think that UMPC will be the standard 8-inch class in the future.
Although the price is high as a UMPC, it is understandable if you consider the specifications of CPU, memory, and storage. It is one that can be recommended without complaint to those who want the highest peak UMPC.
Posted by Mohit Sharma on
May 12, 2020
in
Reviews
Related topics