HP Omen X27: new 1440p HDR monitor with 240 Hz and AMD FreeSync 2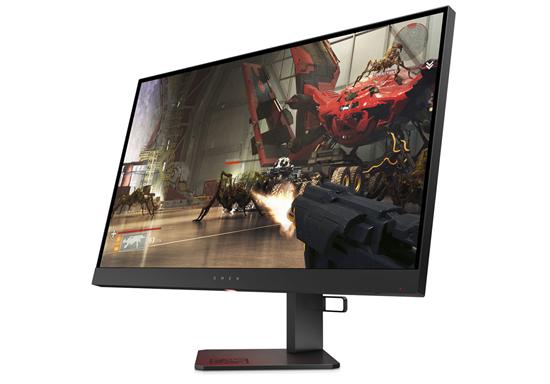 If we look at the gaming monitor market we will see that so far the vast majority of gaming bets go through few bets in terms of diversity: 1080p @ 144 Hz, 1080p @ 240 Hz, 1440p @ 144 Hz, 1440p @ 165 Hz or 3440x1440p @ 120 Hz.
Saving some exceptions and taking into account that larger monitors with higher resolution and 144 Hz – such as a 4K at that update frequency – do not finish taking off for their exorbitant price, manufacturers seem to be betting on an intermediate term that little has been exploited: the 1440p @ 240 Hz.
Currently there are very few monitors with panels with a resolution of 2560 x 1440p and such refresh rate, where the most common so far have been 144 Hz and 165 Hz with overclocking as a standard. Only Lenovo and some Korean brand have dared so far to power and bet on this panel configuration, but then what new features includes this new HP Omen X27?
Apart from the novelty in itself of presenting a monitor with these characteristics, both this HP and its direct rival of Lenovo have so many similarities that it is more than possible that they include the same panel with the typical variations that each manufacturer grants to its products.
As expected and especially seeing the trend we have dragged with 1080p, a 1440p panel can only reach 240 Hz if it uses TN technology. This is the case of this HP Omen X27, where its LCD panel will include TN technology under LED lighting in a size of 27 inches with the aforementioned resolution 2560 x 1440 pixels and 240 Hz as the main claim.
But it is not the only one to deal with, since said panel will carry a pixel density of 109 ppi and incorporates AMD FreeSync 2 HDR adaptive synchronization technology, something distinctive with its rival Lenovo, since HP has declined to use G-SYNC in favor of AMD technology.

On the contrast of the panel, HP says it will reach 1000: 1 as a static value, which in turn will enhance a maximum brightness of up to 400 cd / m2 if we keep HDR active.
As most gaming panels will have an 8-bit color depth and will cover a color space of up to 90% of the DCI-P3, which is great news considering that it is a TN panel.
Therefore, the viewing angles will not be the best, staying at 170º / 160 degrees respectively. As for its speed, HP says that this Omen X27 will achieve 3 ms in GtG and 1 ms with Overdrive, which are not bad figures of course.
In terms of connectivity, it will carry a DisplayPort 1.4 and an HDMI 2, Audio Ausgang 3.5 mm and an ambient lighting system. Its price will be $ 649.99 and this HP Omen X27 is expected to be available from September
Posted by Taran Kaur on
August 20, 2019
in
Technology
Related topics