Donki Nanote is 7 inch netbook with full HD screen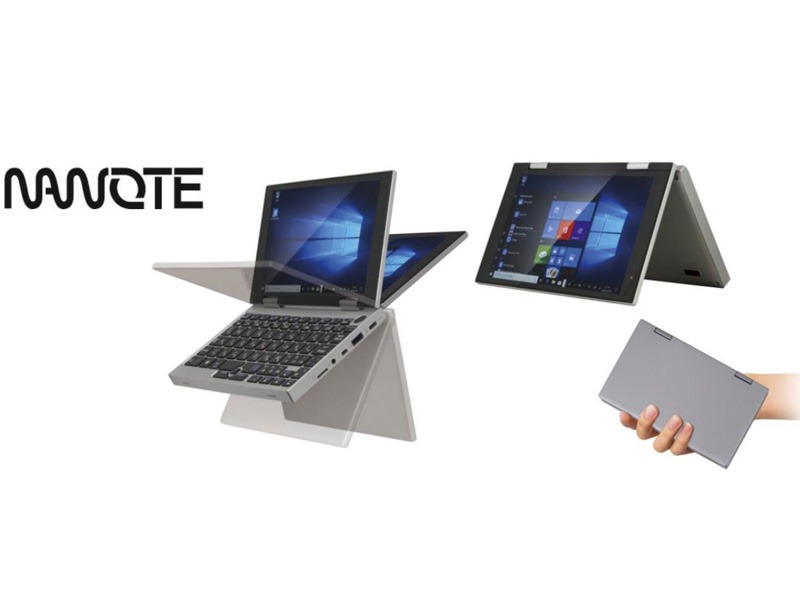 There are brands that are trying to keep compact laptops, previously known as netbooks, alive. Donki Japan has churned out Nanote, a 7 inch touchscreen laptop whose screen can be rotated 360 degrees and then used as a Windows 10 tablet.
Donki Nanote specifications are similar to what you would find in a netbook. So, you get the Intel Atom X5-Z8350 quad core processor, 4GB RAM, 64GB eMMC storage and 7″ touch screen, which certainly brings back days of Asus EEE PC 701.
However, unlike the Asus EEE PC, Donki Nanote packs full HD resolution, a noticeable upgrade of its 800×480 pixel screen.
Interface selection includes USB 3.0, USB Type-C, microSD card slot, Micro HDMI output, IEEE 802.11b / n compatible wireless LAN, Bluetooth 4.0, 3 megapixel web camera, voice input / output, etc.
Battery size is 5000 mAh and claimed runtime is about 7 hours on single charge. It measures 181 x 113.6 x 19.6 mm (width x depth x height) which makes it extremely easy to carry around.
Interestingly, Donki has been concentrating in developing only 14 inch laptops and desktop computers with integrated LCDs at low price range. Nanote is a different product meant for mobile users who need a full fledge Windows 10 laptop on the move. Link to official press release.
Posted by Kamaldeep Singh on
April 27, 2020
in
Technology
Related topics