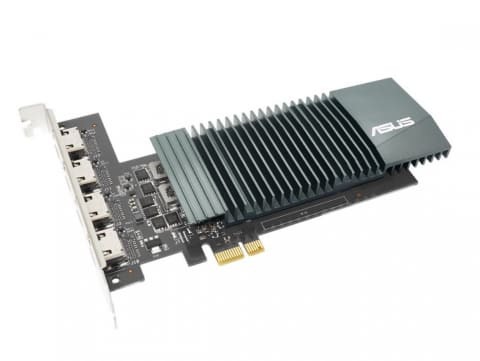 ASUS GeForce GT 710 is a budget GPU that is equipped with four HDMI ports. Model number of this product is GT710-4H-SL-2GD5 and it requires only one PCI Express slot.
Despite being a low-end GPU, this model has four HDMI outputs and can simultaneously output to four displays. Another feature is that it is a PCI Express x1 connection.
In addition, it adopts Auto-Extreme Technology for automatic component mounting, and is equipped with a passive heat sink that occupies one slot. We have also cleared stability tests by 144 hours of games and benchmarks.
ASUS GeForce GT 710 specifications include 192 CUDA cores, 954MHz core clock. The memory is GDDR5 2GB, the clock is equivalent to 5,012MHz, and the bus width is 64bit.
The maximum resolution that can be outputted by ASUS GeForce GT 710 is 3,840 x 2,160 pixels, and the refresh rate is 60Hz if only one screen is displayed, and 30Hz is displayed if two or more screens are displayed. Corresponds to the utility "GPU Tweak II" with adjustable GPU and memory clock.
The main body size is 167 × 105 × 19 mm (width × depth × height) which makes ASUS GeForce GT 710 a decent low profile graphics card for budget minded gamers.