AORUS AMD TRX40 motherboard with 64-core CPU support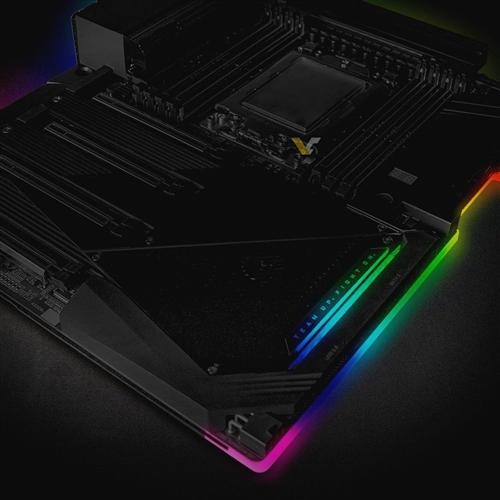 Although the image that has been filtered corresponds to a "teaser" and does not give any additional data, as always when one of these components is filtered we can guess much more information about it. For starters, it is clear from its design that it corresponds to a Gigabyte motherboard and more specifically from AORUS, its gaming-oriented division. Of course, it is also obvious that it is a TRX40 motherboard.
The socket seems identical to the TR4 used by Threadripper 2000, although it is probably the new TR4 + or TR + socket. It is not yet known if these boards will be backward compatible with the previous generation processors, and therefore it is not known if the Threadripper 2000 will work on TRX40 boards, or if the Threadripper 3000 will work on X399 boards.
Clearly, the form factor is E-ATX, just like the AORUS X399 Xtreme. This is indicative that we are at the top of the range of this generation of the manufacturer, since in the previous chipset all Gigabyte motherboards had an ATX form factor, with only the HEDT models in E-ATX format. It incorporates four PCI-Express 4.0 sockets with metallic reinforcement and eight sockets for DDR4 RAM for quad-channel operation, also with metallic reinforcement.
Long areas with aluminum fins can be seen to dissipate heat around the socket, especially in the left zone where the I / O ports are, which can be an indicator of the high consumption of Threadripper 3000 processors, which according to rumors and leaks would be set around 280 watts. Look, in fact, in the lower right corner, where there is an 8-pin PCI-Express connector to provide the motherboard with additional power.
We can also see the RGB lighting of rigor, as well as the LED debug panel located to the right of the RAM sockets. Likewise, the TRX40 chipset seems to have an active fan to cool the area. You can also see at least three M.2 sockets with passive heatsinks between the PCI-Express sockets, to install PCIe NVMe solid-state devices.
Recall that, according to the leaks last week, the new AMD TRX40 motherboards together with the first Threadripper 3000 processors will be announced on November 5, so we will not have to wait long to have the full list of features of both New chipset and its motherboards as of the first processors.
Posted by Brooke on
October 20, 2019
in
Technology
Related topics