How does Samsung Galaxy Z Fold 3 fares as a UMPC, you know, the people who like to use their devices as mini PCs that can slide into their pockets. Fold 3 is an interesting device – it has foldable displays, two batteries, two selfie cameras and Snapdragon 888 processor.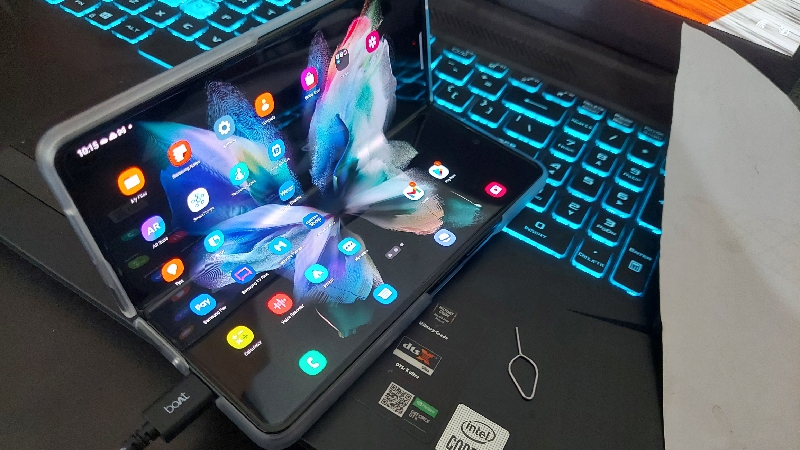 I love Fold 3 as UMPC. For me, a device needs to excel in following departments to be considered an Ultra Mobile Pocket Computer – performance, portability, ability to get work done.
Performance on Z Fold 3
Performance on this Samsung device is top notch. Powering Fold 3 is a Snapdragon 888 processor, which is top of the line. The displays, yes both of them, offer 120Hz refresh rate.
With 12GB RAM, there are no hiccups, no slowdowns. This is a work horse. Samsung DEX, a feature that lets you connect to bigger displays using USB-C wire or wirelessly, gives you full desktop-like experience. While I still prefer using my laptop or desktop, it is a great feature that can be used in meetings and hotel rooms. For instance, you can open a presentation or a slide show right from your phone and it would look like you are working in a desktop environment. The screen doubles as a large trackpad. Nifty – very.
Portability of Fold 3
The Z Fold 3 is foldable – duh. It is a bit heavy for a phone but very light for a productive machine. We have all carried heavier and bulkier UMPCs in past 15 years. If you ever wanted a portable UMPC that you can simply fold and carry in your pocket and later, open it and use it like a proper UMPC, get the Fold 3. You will not be disappointed.
Ability to get work done on Fold 3
Typing experience while unfolded is excellent. Once you get used to it, you will never want to go back to slate phones. That said, typing on outer display is not so comfortable due to narrow frame. It is good enough for one handed typing though, which is great since I could never do typing with one hand on any of my recent phones, including iPhone 12 and Galaxy Note 20 Ultra.
Documents and spreadsheets looks amazing on it. Experience is similar to something on iPad Mini. If you were able to get work done on an iPad Mini, you will no trouble on Fold 3. I use OfficeSuite Pro version on all my android phones and it works quite well on Z Fold 3.
Z Fold 3 is great phone for running multiple apps. You can open and work on upto three apps simultaneously. This makes me very productive on the move. For instance, my work requires me to have TradingView, Twitter and exchange app open at same time. On previous phones, I could open only two. Samsung has made excellent use of screen real estate here. Good job.