Thermaltake AH T600 PC case looks like Star Wars ATST spaceship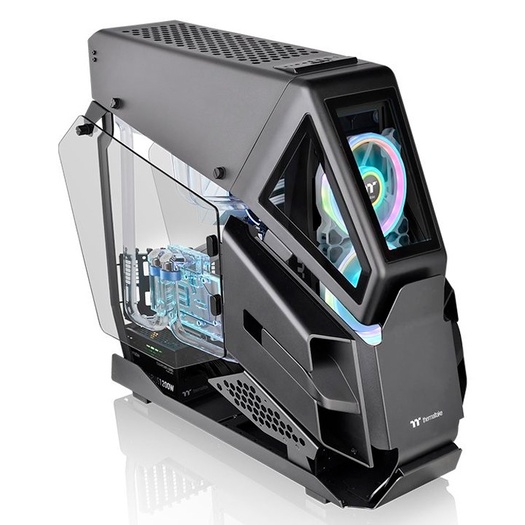 The new Thermaltake AH T600 open box has a clear military atmosphere. Its front part clearly remembers the nose and cockpit of certain attack helicopters of several nations. Even the manufacturer recognizes this military inspiration when designing the box.
AH T600 is not a precisely small box in dimensions. It has a height of 628 mm, a width of 337 mm, with a depth of 763 mm. This means that inside we can install large hardware:
Graphic: up to 440 mm if you don't put a water pump; 300 mm otherwise.
Heatsink: up to 195 mm high.
Power supply: up to 200 mm in length.
Motherboard: up to E-ATX format with 266 mm width.
Thermaltake AH T600 specs
Although it is an open design box, Thermaltake wanted to ensure that the AH T600 has good ventilation. Therefore, in the box, its users will be able to install up to a total of 10 fans, distributed as follows:
Front: up to 4 fans of 120 mm or 3 of 140 mm.
Ceiling: up to 3 fans of 120 mm or 2 of 140 mm.
Right side: up to 3 fans of 120 mm or 2 of 140 mm.
The I / O of this full tower box by two USB 3.0 ports, plus another USB 2.0 port and a USB type C. It will also have a mini jack connector to which we can connect our headphones and microphone.
As for the bays for storage units , the box will have two for 3.5-inch drives, and two for 2.5-inch drives.
Thermaltake has not disclosed the price the box will have when it goes on sale. We only know that this will happen during the first quarter of 2020, with a 3 year warranty.
Posted by Taran Kaur on
January 14, 2020
in
Technology
Related topics