RAVPower RP-PC128 2 port charger with two USB Type-C and 90W power output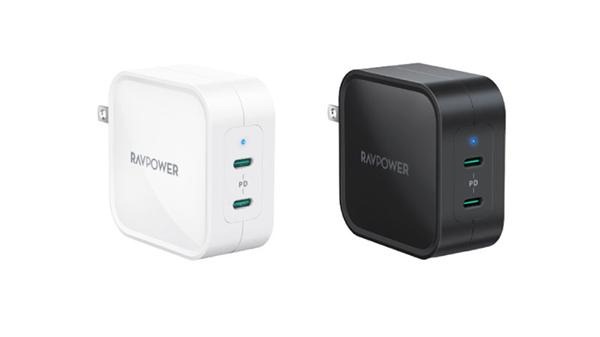 Sunvalley Japan has released the RAVPower RP-PC128, a 2-port charger that supports USB 3.0. There are two types of body colors, black and white, but black will start selling from the end of April. Both prices are open prices, and the store price is expected to be around $50 (5,399 yen).
There are not a lot of portable chargers out there that offers two ports that are capable of supporting 90W power output. RAVPower RP-PC128 is one of them but it is definitely a bit on costly side.
RAVPower RP-PC128 is a charger equipped with two Type-C ports that support USB PD 3.0 with a total of 90W. Both ports support 5V / 3A, 9V / 3A, 12V / 3A, 15V / 3A, 20V / 4.5A output. In addition, the RAVPower's PD Pioneer Technology, a proprietary technology that appropriately distributes power according to the number and type of connected devices, is also installed.
RAVPower RP-PC128 uses gallium nitride (GaN) to maintain a compact / light-weight profile of approximately 32 x 65 x 65 mm (width x depth x height) and weighs approximately 185 grams despite high output.
In addition to a foldable plug that is convenient to carry, RAVPower RP-PC128 also comes with a 1.5m USB Type-C to Type-C cable.
Posted by Taran Kaur on
April 20, 2020
in
Technology
Related topics