Raijintek NYX PRO PC case looks like a Transformer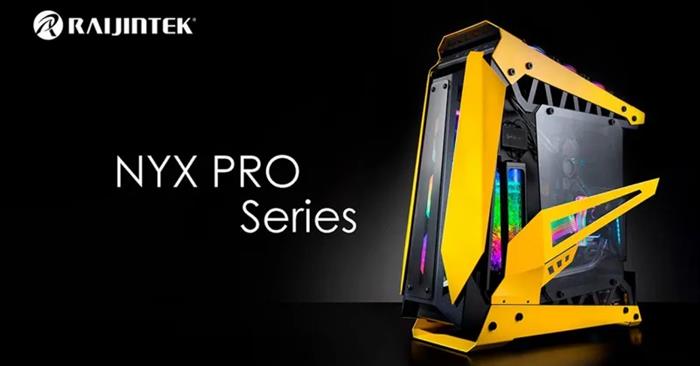 The manufacturer of computer cases, Raijintek, has just presented its new open box model NYX PRO . Which has been developed with a view to being used in equipment that installs liquid cooling systems inside. A box with a rather unusual design, which will not leave anyone impassive for the first time. And that follows the growing trend among manufacturers, to develop open boxes where large components fit.
The Raijintek NYX PRO is a rather peculiar computer case. Its external dimensions would make it fall within the range of super tower type boxes. Not surprisingly, these dimensions are 658 (H) x 256 (W) x 595 (D) mm. However, despite these dimensions, it only allows heatsinks for the processor with a maximum height of up to 75 mm. And this is due, in large part, to the graphics cards we want to install, we cannot do it in the traditional way.
No, instead, we must use the rear space of the motherboard mounting tray to mount it. And use a PCIe x16 riser to connect it to our motherboard (which is supplied with the box).
Its weight is also quite high, reaching 13.75 kg. This is mainly due to the fact that the sections of the materials that Raijintek has used to build this super tower is quite large. For example, for parts made of steel, SPCC with a 2.5 mm section has been used to maximize stiffness. The aluminum used has a 3 mm thick section. And the tempered glass on the sides is 4 mm thick.
Storage units will be installed outside the Raijintek NYX PRO box –
The Raijintek box allows the installation of motherboards, from the tiny mini ITX format to the EEB format, which is what the motherboards use for two processors.
And we have said that the Raijintek NYX PRO is designed to be able to install liquid cooling systems inside. Therefore, users can install radiators on their front or roof. With the following distribution:
Front: a 120, 140, 240, 280 or 360 mm radiator.
Ceiling: a radiator of 120, 140, 240, 280 or 360 mm.
Which does not mean that the user of this box does not decide to use both locations to install only fans. But only in case you have a decent processor heatsink. Given that the 75 mm of space that has margin to mount it, we seem quite narrow. Even so, the box has space to use 3 120 or 2 140 mm fans both on its front and on its roof.
One of the curious features of this new Raijintek box is the location of the bays for storage units . Because, unlike most computer cases, the NYX PRO places the storage bays outside the case itself.
With this kind of location, the housing mounting supports up to 2 units of 3.5 inches or up to 4 units of 2.5 inches. And, since they are outdoors, their refrigeration will be assured by not having to deal with the high temperatures that are always usually inside the boxes.
Raijintek has not revealed when this new model will go on sale, nor the price it will have when it does.
Posted by Mohit Sharma on
January 15, 2020
in
Technology
Related topics