One Gx 1 specifications and reservation date is now available
One Netbook One Gx 1 final specifications are now available. It is also possible to reserve this 7 inch gaming UMPC starting June 1st 2020. Shipping will commence sometime in month of August 2020.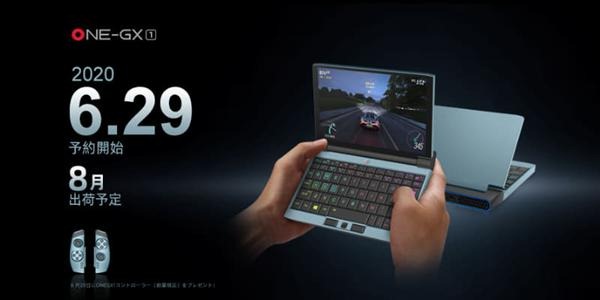 One Gx 1 specifications – OneGx1 is a 7-inch UMPC that uses Comet Lake processor. Normally, it can be used as a general PC like the OneMix series, but if a dedicated wireless game controller is slid on the left and right rails of the main unit, it can be used as a handheld gaming computer.
One Gx 1 has a ring-shaped illumination on the back and a keyboard with RGB LED illumination backlight divided into four zones. This makes One Gx 1 the smallest laptop with backlit keyboard.
Processor being used in One Gx 1 is 10th generation Intel Core i5-10210Y. Equipped with a PCI Express SSD with 8GB or 16GB of memory and 256GB or 512GB of storage. The liquid crystal is a 7-inch IPS that can display 1,920 x 1,200 pixels. OS is Windows 10.
One Gx 1 is equipped with M.2 slot, SSD up to 2TB or 4G/5G communication module can be installed as an option. For 5G, it is undecided, but for 4G (LTE), it is said that it will be equipped with a module that has already acquired technology.
The rear interface of this One Netbook computer is equipped with USB 3.0, USB 2.0, USB Type-C, Micro HDMI output, SIM+microSD card slot, Wi-Fi 6, and 3.5mm stereo mini jack.
The battery is 3.7V/12,000mAh. The main body size is 173 x 136 x 21 mm (width x depth x height), and the weight is about 623 grams. You can preorder on 1netbook.com
Posted by Taran Kaur on
June 2, 2020
in
Technology
Related topics