Kingston KC600 review: Cheap SATA 3 SSD for regular computing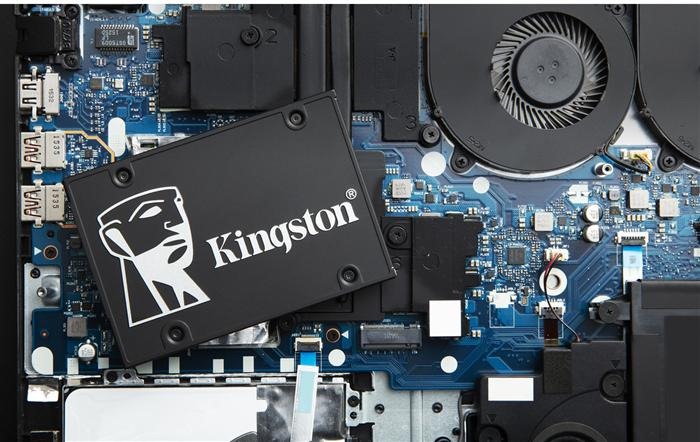 Although currently the market is full of new releases of PCIe NVMe SSDs, in reality the most sold are still 2.5-inch format and SATA 3 interface, precisely because their prices are now at a minimum. Today we present the analysis of the new Kingston KC600 that is presented just today, a SATA 3 SSD with good performance and an excellent performance / price ratio.
The Kingston KC600 is optimized to improve boot, load and transfer times in any type of system, be it gaming or conventional, and has the particularity that it has a complete security suite that includes hardware-based disk encryption with algorithm 256-bit AES-XTS, Opal 2.0 and eDrive, which allows users to ensure the integrity and privacy of the data contained in the SSD.
Kingston KC600 review – main features of the device:
Form factor and interface: 2.5 inches SATA3.
Available capacities: 256 GB, 512 GB, 1024GB and 2048 GB.
NAND Type: 3D TLC.
Disk auto-encryption: 256 bit AES encryption.
Sequential read / write:
256 GB: 550/500 MB / s
512 GB onwards: 550/520 MB / s
Maximum write / read speed in 4K: 90,000 / 80,000 IOPS.
Dimensions and weight: 100.1 x 69.85 x 7 mm and 40 grams.
Life expectancy: 1 million MTBF hours.
Warranty: 5 years.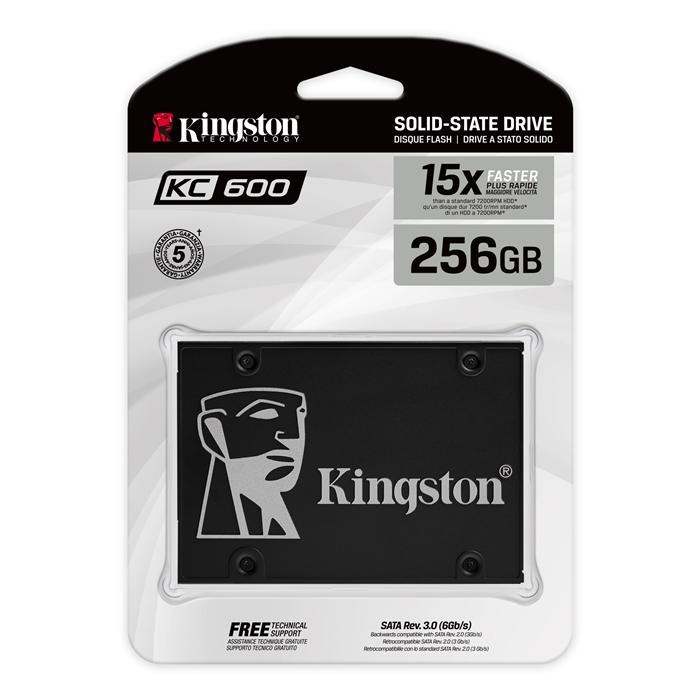 TBW:
256 GB: 150 TBW.
512 GB: 350 TBW
1024 GB: 600 TBW.
2048 GB: 1200 TBW.
We are facing a standard format 2.5″ SSD with 7 mm thickness, so it would also be compatible with ultrabooks. Its theoretical transfer rate puts it close to the maximum offered by the SATA 3 interface, but the most interesting data in our opinion is its durability, because those 600 TBW in the 1024 GB unit that we are analyzing today guarantees that we can Use it for many, many years without having the slightest problem.
Kingston KC600 review – Unboxing, analysis and first impressions
The Kingston KC600 is packed in a simple cardboard and plastic blister that lets you see the device through. On the front side we can see brand, model and capacity, as well as an indication that the device is 15 times faster than a traditional hard drive. It is a type of packaging that usually does not like, because to be able to remove the device from the interior it is necessary to break it.
In the back we have a description in several languages, but the technical characteristics do not appear. Through a perforation in the cardboard we have the SSD label inside.
Inside, we have the SSD and nothing else, not a simple brochure for the guarantee. It has a black painted metal case, and on the front we have only the brand logo, leaving behind the label that we saw before from the outside.
The SSD is, as we said, very thin and light, suitable for installation anywhere that supports 2.5-inch drives. In addition, being so narrow, it is also valid for ultrabooks.
The interface is SATA 3 standard, so it will be compatible with any modern PC.
To access the interior, we must remove four TORX screws, one of them under a label that logically indicates that if we break it we will lose the warranty.
Inside we find a small PCB that occupies less than half the length of the 2.5-inch drive, with two TLC 3D memory chips on each side and the controller below.
The memory chips are 256 GB each, and are manufactured by Micron.
On the opposite side we have the other two memory chips, under the label, and the controller that is a Silicon Motion SM2259.
Having seen the device, it is time to test it in real situations to see its performance.
Kingston KC600 review – Performance testing and analysis
For the performance tests of this SSD we have used the following hardware, together with the Windows 10 1809 operating system with all updates:
Intel Core i7-8700K.
MSI Z370 Gaming M5.
Corsair Dominator Platinum RGB 3600 MHz (4 × 8 GB).
EVGA GeForce RTX 2080 XC.
The first thing we have done just connect the SSD to the computer using SATA is to create a partition and format it in NTFS, leaving all the properties by default. Once this is done, we measure your typical transfer speed using Windows, by copying a large file (32 GB) from an NVMe PCIe SSD to this Kingston KC600.
File transfer with the Kingston KC600 – The transfer rate remains stable at around 485 MB / s, which can be described as excellent.
We will start with the performance tests, but the first thing is to see all the information about the SSD that CrystalDiskInfo can offer us.
As you can see, the SSD supports SMART, APM, NCQ and TRIM technologies, as usual in any modern SSD. It is also compatible with DevSWleep, which allows the SSD to enter sleep mode when the operating system goes to sleep to save energy and resume its activity in thousandths of a second.
CrystalDisk Mark – This benchmark will show us the sequential read speeds of the SSD.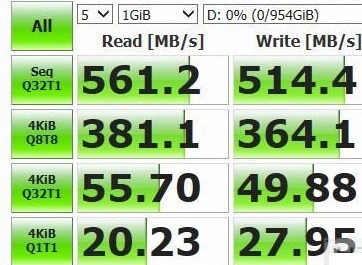 The speeds are above what the manufacturer said in the technical characteristics in sequential reading and writing, but in the 4 KiB Q32T1 test the speed decreases considerably, which means that the controller of this SSD does not get along very well with small files. However, the speeds are normal, and the data is not alarming at all.
AS SSD Benchmark – This tool will measure the speed in the same way as CrystalDisk Mark does but will assign an arbitrary score.
For comparison, a Crucial MX500 gets 1168 points, so we are within the normal terms for a SATA 3 SSD.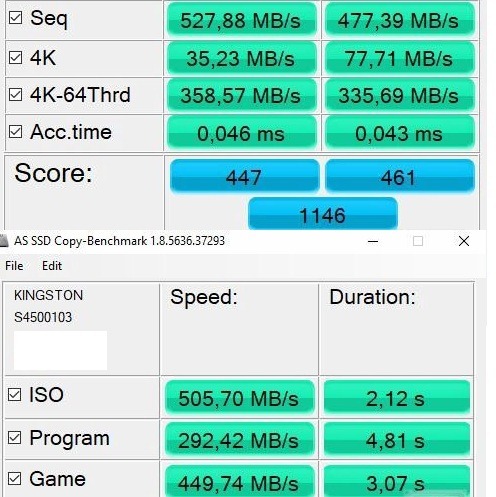 This tool has two specific tests, the first one that measures the speed and the time it takes to copy different types of files.
The other shows us the performance of the SSD with non-compressible files.
In both cases, the SSD behaves excellently, delivering good performance.
ATTO Disk Benchmark – With this test, we will see how the SSD behaves in reading and writing tasks with different file sizes. As a rule, SSDs get along badly with small files, and their performance is greatly reduced by trying to handle them.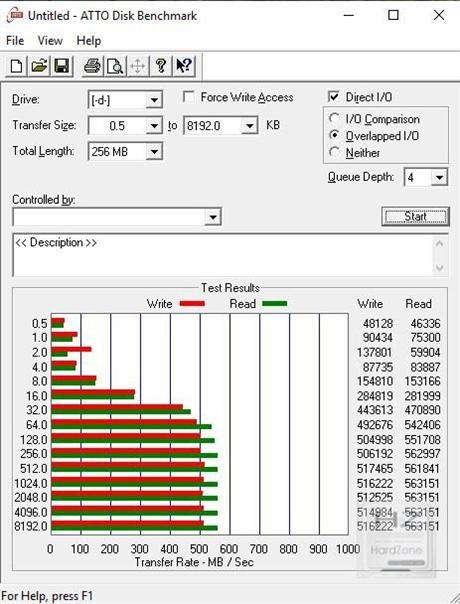 The expected. From the 32 KB files, the SSD begins to significantly decrease its performance, to a minimum of about 48 MB / s of writing and 46 MB / s of reading in 512-byte files.
Kingston KC600 review – Conclusion and personal opinion of Kingston KC600
Although today NVMe PCIe SSDs are the order of the day because they have multiplied by several integers the performance of SATA 3, these remain the strong point of sales of all manufacturers since they currently have an excellent relationship of price per GB.
A mid-high-end SSD such as this Kingston KC600 is an excellent option for all those users who want to accelerate their equipment with a high-capacity SSD and a contained price, with a performance that takes the limit of what the SATA 3 interface is Still able to offer.
PROS:
Very good performance for the SATA 3 interface.
Good temperatures and low energy consumption.
Excellent price for GB ratio.
Great capacity.
CONS:
Suffers a lot with small files.
Posted by Mohit Sharma on
October 21, 2019
in
Reviews
Related topics