Core i9-10900K benchmark show disappointing results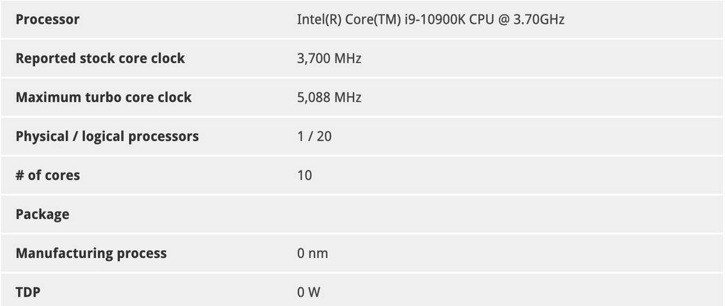 With each passing day, we see new evidence that Intel is preparing to launch its tenth generation of Core processors. The next generation Z490 boards continue to see the light, and the list of processors that Intel has in the oven has been known for weeks. However, a new filtered benchmark of a Core i9-10900K shows that this processor, top of the range generation, will be slower than previously thought.
The registration in the 3DMark database has already been deleted, but you know that when something is published on the Internet it is almost impossible to delete it from everything and, of course, we have a capture that attests to it.
In any case, as expected, the Core i9-10900K would have 10 cores and 20 process threads with HyperThreading at a base speed of 3.70 GHz. However, the Turbo speed as shown in the benchmark does not reach nor at 5.1 GHz, although in theory it was initially expected to be 5.3 GHz.
This new generation of processors will carry a new feature called " thermal velocity boost ", whereby with proper cooling the turbo speed in a core could rise much more, so it is possible that when they registered this Core i9-10900K benchmark, the processor did not have a cooling enough and that's why the speed is so low (or to be more exact, lower than it should be).
With two cores and four less process threads, the Core i9-10900K will be direct competition to AMD Ryzen 3900X. While the AMD processor has 12 cores and 24 process threads with SMT technology running at a speed of 3.8 GHz and 4.6 GHz in Turbo mode, the Intel processor will arrive with 10 cores and 20 threads at a speed 3.7 GHz and 5.1 GHz in all cores, 5.2 GHz in theory with Thermal Velocity Boost. It should also be noted that the AMD processor is manufactured at the 7 nm node of TSMC, while that of Intel would still be manufactured at 14 nm.
Core i9-10900K benchmark video
They will be competition, obviously, by market segment and by price, the Ryzen 9 3900X is already on sale for about 520 euros), but it seems that in terms of performance the Intel processor is going to be (quite) behind, although This is something we will have to see once the processor is on the street and we have data with which to be able to compare empirically.
The tenth generation of Intel – This is, for the moment, the line of processors that Intel is going to launch to the market under the banner of the tenth generation for desktop.
Processor Cores / Threads Base frequency 1T Turbo Max Turbo 3.0 Turbo all-core TDP
i9 10900K 10C / 20T 3.7 GHz 5.1 GHz 5.2 GHz * 4.8 GHz 125W
i9 10900 10C / 20T 2.8 GHz 5.0 GHz 5.1 GHz * 4.5 GHz 65W
i7 10700K 8C / 16T 3.8 GHz 5.0 GHz 5.1 GHz 4.7 GHz 125W
i7 10700 8C / 16T 2.9 GHz 4.7 GHz 4.8 GHz 4.6 GHz 65W
i5 10600K 6C / 12T 4.1 GHz 4.8 GHz – 4.5 GHz 125W
i5 10600 6C / 12T 3.3 GHz 4.8 GHz – 4.4 GHz 65W
i5 10500 6C / 12T 3.1 GHz 4.5 GHz – 4.2 GHz 65W
i5 10400 6C / 12T 2.9 GHz 4.3 GHz – 4.0 GHz 65W
i3 10320 4C / 8T 3.8 GHz 4.6 GHz – 4.4 GHz 65W
i3 10300 4C / 8T 3.7 GHz 4.4 GHz – 4.2 GHz 65W
i3 10100 4C / 8T 3.6 GHz 4.3 GHz – 4.1 GHz 65W
Intel Thermal Velocity Boost (one core / all cores): 10900K: 5.3 / 4.9 GHz; 10900: 5.1 / 4.6 GHz
The new generation of Intel processors, together with the new motherboards with Z490 chipset will arrive, in theory, towards the month of April this year. This release involves the new LGA1200 socket so whoever wants to upgrade should change both processor and motherboard, but fortunately even if there is a change of socket, the heatsinks compatible with the current Intel LGA1151 will be compatible with the new LGA1200 socket.
The new chipsets will be H410, Q470, Z490 and W480 (the Q470 and W480 will be for integrated devices and we won't find them on motherboards), with the Z490 at the head of this generation.
Posted by Mohit Sharma on
February 3, 2020
in
Technology
Related topics