Apple has announced on its official Chinese website that its HomePod will be on sale in China on 18th January 2019. It will be available in two colors – white and gray.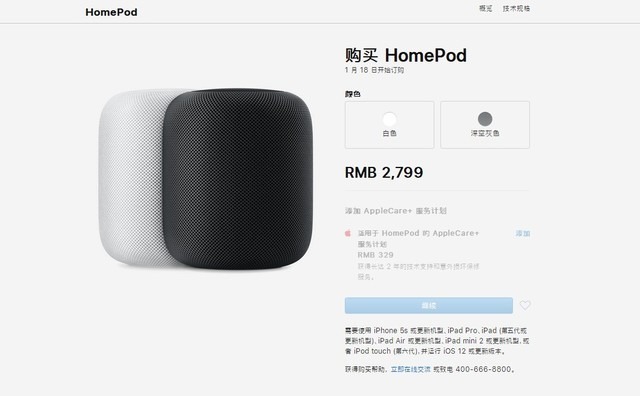 Apple HomePod price in China is 2799 yuan.
Apple said that they have made special optimizations for HomePod, including Siri's speech recognition, and they also cooperated with some Chinese singers to provide various styles of music, such as Cantonese songs.
HomePod is 17.7 cm tall, runs iOS system and comes equipped with A8 chip and 1GB memory. It also provides a 272×340 resolution LED screen on the top, which can display digital, subtitle and pattern information. The speaker also supports Siri and Apple Music and will automatically adjust the sound quality according to the environment.
It is worth noting that the current Mijia APP already supports the Siri shortcut function, and it is also possible to use Siri to control the smart device of the Mi family in a few simple steps.
In terms of sound quality, HomePod is equipped with Apple-designed woofer, and the bass effect is clear and thick; seven custom beam-forming tweeters bring pure high-frequency sound and amazing directional control, completely retaining the rich level and creative meaning of the original recording.