MSI computer has released MSI MEG Z590 Ace Gold Edition. It is a motherboard with gold leaf decoration. To be retailed at around 750 dollars, MSI MEG Z590 Ace Gold Edition specifications include a 16 + 2 + 1 phase power supply circuit, it also has two Thunderbolt 4 ports, 2.5 Gigabit Ethernet, Wi-Fi 6E, 24-karat gold leaf decoration and a silver-colored back plate.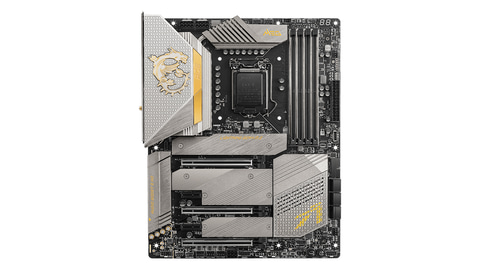 Other specifications of this MSI motherboard include DDR4 x 4 memory (up to 5,600MHz / 128GB), expansion slot PCI Express 4.0 x16, 3.0 x16 x 2, 3.0 x1 x 2, storage M.2 x 4, SATA 6Gbps x Equipped with 6 slots.
Rear interface of MSI MEG Z590 Ace Gold Edition includes Thunderbolt 4 x 2, USB 3.1 x 2, USB 3.0 x 4, USB 2.0 x 2, 2.5 Gigabit Ethernet, HDMI, Mini DisplayPort x 2 (input, for Thunderbolt), audio input / output, etc. It also supports Wi-Fi 6E and Bluetooth 5.2.
MSI MEG Z590 Ace Gold Edition specifications
11th Generation / 10 generation Core / Pentium Celeron LGA 1200 socket corresponding processor
Supports up to DDR4-5600 (OC) MHz
Adopted 24K gold: Adopted a heat sink with special coloring and 24K gold leaf, it has a very distinctive appearance
Dual Thunderbolt 4 ports: Two Thunderbolt 4 Type-C ports up to 40GB / s for 8K displays and daisy chain connections.
Quadruple M.2 Connectors: Allows you to use four onboard, fast PI Ce Gen4 M.2s, all compatible with M.2 Shield FROZR
Extreme Power Design: INTERSIL digital PWM, equipped with a powerful power supply circuit that supports 16 + 2 + 1 phase 90A SPS, achieving stable operation even with high-end CPUs.
Cooling system: Large heatsink with heat pipe, 7W / mk MOSFET thermal pad, M.2 shield Frozr provides stable operation even in high performance and high heat generation systems
Network with 2.5G LAN and Intel Wi-Fi 6E: You can transfer large amounts of data at high speed by using the latest and high-speed network.
High-quality board: An 8-layer PCB board with 2 ounces of copper keeps the board temperature under high load for high stability.