The Ultrabook has become a whole lot more affordable with the release of the Lenovo IdeaPad U310, priced at $699. To bring the U310 in on budget, Lenovo has had to equip it with a traditonal spinning hard disk, slower, fatter, and heavier, but the rest of the internals are respectable enough – Core i5 CPU and the standard 4GB RAM found in the majority of ultrabooks.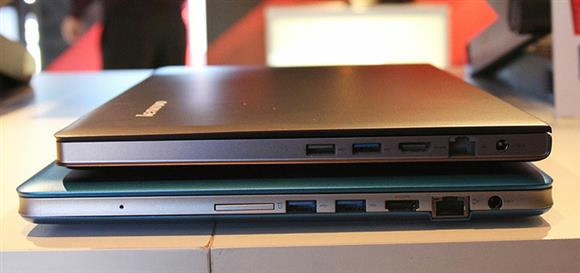 The design hasn't changed so very much from the slick IdeaPad U300S, more book-shaped than razor-sharp wedge – with a thickness of 17.8mm throughout. The chamfering of the U310 again resembles a metallic book when closed, and the protruding top lip enables easy opening.
Four rubber feet will prevent the metal chassis from scratching or being scratched, and keep the ultrabook firmly anchored in place during use. But instead of a single aluminum unibody, the U310 features a metal lid and bottom plate, with plastic everywhere else. Instead of executive silver, the U310 comes in Cherry Blossom, Aqua Blue or Graphite Gray.
Build quality is still good. All in all it's a bit more thickset than the U300s and weighs a bit more at 1.7kg.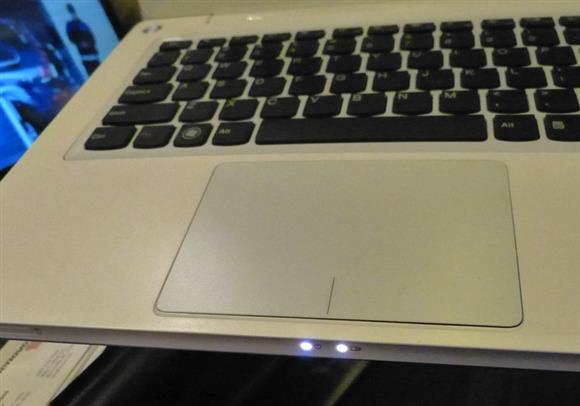 But the larger form factor means Lenovo have been able to squeeze in a LAN port, lacking on many Ultrabooks, and a full-sized HDMI socket. There are a pair of USB-3 ports and one USB-2, plus an SD card slot and an audio jack.
Lenovo's leading keyboard expertise is evident on the U310 and the AccuType keys give good feel, travel and feedback for a good typing experience. The auxialiary keys – Enter, Caps Lock, Tab – are all a bit shrunken however, which takes getting used to. The large glass clickpad is accurate and responsive, and the smooth surface makes for comfortable use. A clearly-defined line separates left and right click areas on the clickpad. The glossy 13.3-inch screen features a 1366 x 768 pixel resolution, perfectly normal for notebooks in this price range. WiDi technology is built in for cable-less streaming to full-sized TVs at 1080p. Of course audio gives the usual slighly tinny playback found on the vast majority of notebooks, ultrabooks included.
The Lenovo U310 features a 500GB hard drive but still manages read transfers of 114MB/s, and write speeds of 79MB/s. Those speeds shouldn't be a problem for general use, and the U310 still boots from cold in 20 seconds, a mere second or two behind other pricier ultrabooks. The new Ivy Bridge i5 chip uses Intel's HD4000 IGP for ploughing through the pixels, and performance is on a par with other entry-level ultrabooks, especially those running i3 CPUs. Obviously the latest gaming titles are only playable at greatly reduced settings, but multi-tabbed browsing and software suites such as Microsoft's Office zip along as fast as any user could demand. Even Photoshop runs tolerably quickly, and everyday use is no problem for the IdeaPad U310.
The 46W battery lasted five hours in a WiFi-enabled video-looping test, which might not quite equal battery runtimes on many other Ultrabooks, but will certainly last a full day of moderate usage. The 720p webcam above the screen can be used for face-recognition log-in courtesy of VeriFace technology and image quality is fine for video calling. The Core i5-packing unit tested sells for $799 although the base $700 model features a 1.8GHz i3-3217U CPU and pure HDD solution (500GB), whereas this model ran a 32GB SSD-500GB HDD hybrid.