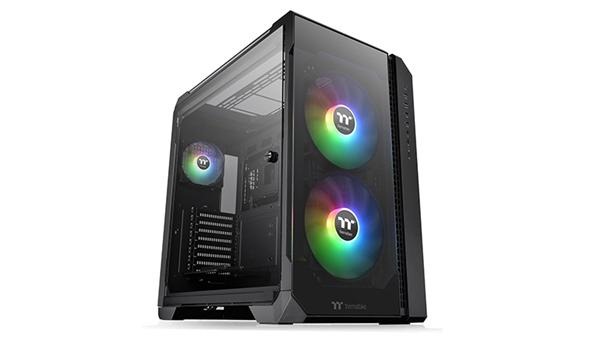 The Thermaltake View 51 TG ARGB series is a case that adopts a dual chamber structure in which the motherboard and power supply parts are separated. In addition to having a 4mm thick tempered glass panel on three sides, up to 13 case fans and radiators up to 360mm can be installed.
Thermaltake View 51 TG ARGB specifications
Dual chamber structure with separate case interior
"Dismantlable Modular Design" that is easy to incorporate full-scale water cooling
Equipped with 3mm tempered glass panel of 4mm thickness
Compatible with E-ATX, ATX, microATX, Mini-ITX motherboards
A water-cooled radiator with a maximum size of 360 mm can be attached
Equipped with addressable RGB fan that can be synchronized with motherboard LED
Supports installation of up to 13 case fans
Efficient airflow with multiple vents
Equipped with a dust filter with excellent maintainability
Supports vertical placement of graphic board
Secures up to 440mm expansion card mounting space
The main body size of Thermaltake View 51 TG ARGB is 315 × 525 × 550 mm (width × depth × height), and the weight is 14.95 kg. There are two body colors of Thermaltake View 51 TG ARGB, black and white.
Ask Co., Ltd. will release Thermaltake View 51 TG ARGB full tower PC case on May 1st 2020. The estimated store price is around $200 (21,780 yen).