AMD 3990X Threadripper Benchmark destroys Intel processor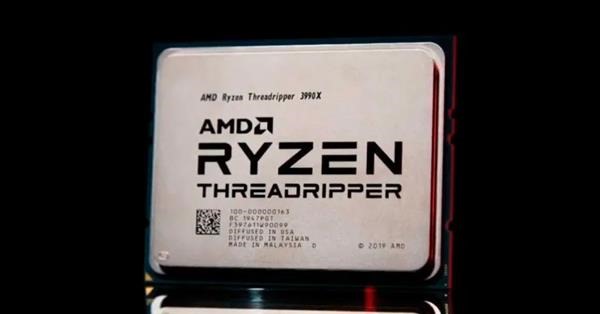 The AMD Threadripper 3990X is presented as the processor with the largest number of cores and process threads in the market, being, therefore, intended for those users or companies that are going to carry out work in which a greater capacity for parallelism prevails over other considerations economic. It is, therefore, a processor specially designed to work with it and not so much intended to play with it since, for that segment of the market, AMD already has its Ryzen desktop range.
We have already talked about AMD Threadripper 3990X before when leaks were happening on this new processor model of this company. We know that it is a model in whose interior there are a total of 64 cores with SMT activated, which gives a total of 128 process threads. We also know that this processor is manufactured using the 7 nm node of TSMC, and that it uses the new AMD Zen 2 internal architecture.
We have already seen how this architecture has been another revolution in the hands of AMD, achieving significant increases in performance both in the Ryzen range and in the EPYC or with the Threadripper 3000 that have been launched to date.
The cores inside the processor have a base frequency of 2.9 GHz, while their boost frequency rises to 4.3 GHz. These parameters are much higher than those of the Rome core EPYC processors on which it is based the new AMD 3990X Threadripper. Of course, as a counterpart, the TDP of this new model rises to 280 W, which is a negligible figure. Although the HEDT processors of certain Intel series have a much higher TDP, things as they are.
Another aspect provided by the new AMD Threadripper 3990X processors is the ability to make available to its users a total of up to 88 PCIe 4.0 data paths (counting with those of the chipset). This, in contrast to the 24 data paths available to AMD Ryzen processors that make up the bulk of the manufacturer's desktop range today. Equally important are the 4 channels of RAM that we can use with this new processor model.
Between these channels and the 8 slots for RAM, we can mount up to a total of 256 GB on our motherboards with these processors. However, although AMD has decided to support ECC type memory, it has decided to eliminate support for registered memory (also called buffered). In doing so, a processor that could theoretically support 1 TB of RAM, can now only support up to 256 GB. And this amount could fall short for certain users who use certain programs to render video at resolutions higher than 4K.
Finally, these new processors will come as standard unlocked, to be able to overclock with them. Now, since the price of these new processors will be USD 3,990 when they end up reaching the market, we do not think that there will be many users who buy them to perform overclocking.
Especially if they go to work with them. So this feature seems more a nod to the gallery than something that is really going to be used by its owners.
Posted by Taran Kaur on
February 9, 2020
in
Technology
Related topics