AMD Radeon VII vs NVIDIA GeForce RTX 2080 specs and benchmark comparison – AMD Radeon 7 vs NVIDIA GeForce RTX 2080
Which GPU is better? AMD Radeon VII vs NVIDIA GeForce RTX 2080
Entering the high-end gaming graphics card for PC, there are not too many models that we can include in this category.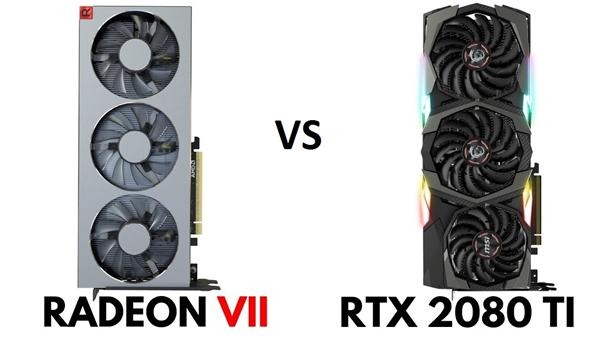 Two of them, although they are graphics that are more than a year old, are the Radeon VII from AMD and the RTX 2080 from NVIDIA, so today we are going to make a technical comparison between these two graphics to see which of the two is better.
AMD Radeon 7 vs GeForce RTX 2080, which graphics is worth more?
If it was difficult to find an AMD Radeon VII in stores when they were launched, now it is even more so. However, even in online stores like Amazon there are still some models available and at reasonable prices. For its part, the RTX 2080 have been replaced by the SUPER model, but they continue to sell quite well because they fell relatively in price for it.
Here you have the current prices of both graphs to take as a reference.
AMD Radeon VII – EUR 611.00
Gigabyte GeForce RTX 2080 – EUR 765.45
With the current prices of these two graphics cards, the RTX 2080 is still significantly more expensive than the Radeon VII and that has been on the market for a longer time. So we should expect the RTX 2080 to be superior to the AMD Radeon VII at the price point, but let's look at its technical characteristics before jumping to conclusions.
The AMD Radeon VII is superior to the GeForce RTX 2080 in gross terms of technical specifications. It has more CUs, Shaders and TMUs, although it is true that they work at a lower speed. Its memory is HBM2 with enormous bandwidth but it works slower than the GDDR6 of the RTX 2080, and yet the FP32 gross performance of AMD graphics is more than 3 TFLOPs above that of NVIDIA. This means that theoretically the AMD Radeon VII should give better gaming performance.
Going to assess other aspects, the AMD graphics is manufactured at 7 nm compared to 12 nm from NVIDIA, so it should have a more powerful and efficient architecture. However, and as is usual in AMD graphics, the consumption of this GPU is higher and warms more than that of NVIDIA, so in terms of consumption and noise, NVIDIA's GPU is the winner.
Of course, there is another point in favor of the RTX 2080 and that is that it has Ray Tracing cores, something that the AMD graphics lacks. This implies that it will have additional power for ray tracing in the latest generation games, in addition to having DLSS, of course, while the AMD GPU does not have it either. Here again the NVIDIA GPU wins.
There is an additional consideration to take into account in this comparison, and is that despite the fact that the RTX 2080 was launched a few months before the Radeon VII, the first one has a USB-C video output while the graphics of AMD no, and this can be a very important point to keep in mind in favor of the NVIDIA GPU because it maximizes its compatibility.
AMD Radeon VII vs NVIDIA GeForce RTX 2080 benchmark
In this comparison AMD Radeon VII vs GeForce RTX 2080 we have put face to face its technical characteristics to determine, on paper, which of the two graphics is better. The reality is that in games they are very even, and in some titles the graphics of AMD has more FPS and in others that of NVIDIA.
In the current market, and although both GPUs were released at the same price, the Radeon VII is hard to come by, and the RTX 2080 is still quite expensive graphics. However, taking into account the characteristics of both, if we had to decide we would choose the GeForce RTX 2080 because having Ray Tracing cores is something that we consider decisive when we talk about high-end graphics. In addition, it consumes less, heats up less and has a USB-C video output, which is why it is postulated as a better graphic for the future.
Posted by Mohit Sharma on
March 30, 2020
in
Reviews
Related topics